Humboldt Fog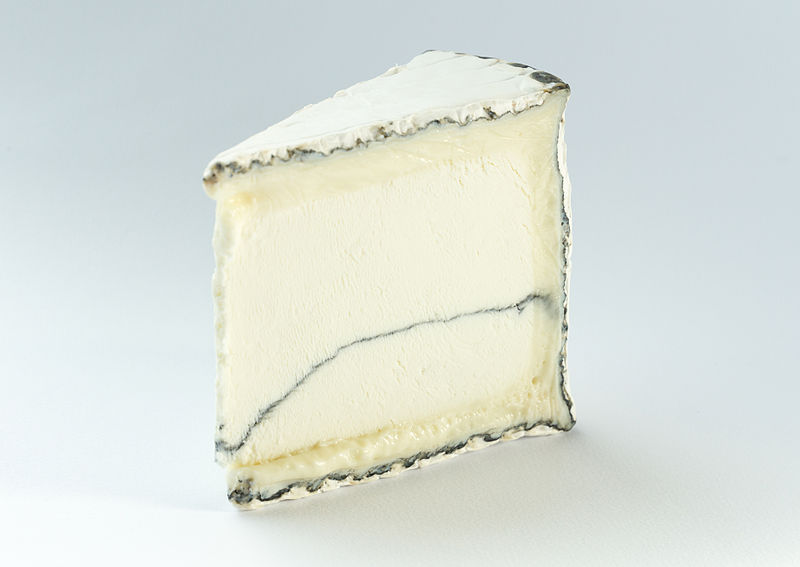 Made from pasteurized goat's milk

Country of origin: United States

Region: Arcata, California

Type: semi-soft, soft-ripened

Rind: bloomy

Colour: white

Flavour: citrusy, herbaceous, tangy

Aroma: floral, goaty, pungent

Vegetarian: yes

Producers: Cypress Grove Chevre

Alternative spellings: Humboldt Fog Grande, Humboldt Fog Mini
Humboldt Fog® is a goat's milk cheese made by Cypress Grove Chevre, of Arcata, California, in Humboldt County. It is a mould-ripened cheese with a distinguishing layer of edible ash. The cheese ripens from the outside to the centre, resulting in a fresh goat cheese centre surrounded by a pungent runny shell. This runny shell will widen as the cheese matures and is considered the best part of the cheese by many. The bloomy mould and ash rind is edible but relatively tasteless. The cheese is creamy, light, powdery, slightly lemony and mildly goaty.
Humboldt Fog is available from a mini 1 lbs. cheese wheel (Humboldt Fog® Mini) up to the large 5 lbs. cheese wheel (Humboldt Fog® Grande).
The cheese won first place at the American Cheese Society in 1998, 2002, 2005 and 2019. Along with many other awards, it won Gold International Cheese and Dairy Awards in 2019 and 2021.
Other American cheeses:
Aged British Cheddar
,
Aggiano
,
Amish Frolic
,
Apple Walnut Smoked
,
Ascutney Mountain
,
Barely Buzzed
,
Big John's Cajun
,
Bleu Mont Dairy Bandaged Cheddar
,
Blissful Blocks
,
Boo Boo Baby Swiss
,
... show all ... ,
Brown's Gulch, Cabot Clothbound, Capriago, Capricious, Cherokee Rose, Chocolate Lab, Crowley, Danby, Dark / Snow Canyon Edam, Dry Jack, Dunbarton Blue, Duroblando, Elberton Blue, Elk Mountain, Estero Gold Reserve, Farmhouse Gouda, Fiscalini Bandaged Cheddar, Flory's Truckle Cheddar, Fontina, Fortsonia, Four Corners, Fuzzy Udder Creamery's Tomme, Georgia Gold Clothbound Cheddar, Goat Milk Cheddars, Grafton Village Cheddar, Great Lakes Cheshire, Hannah Reserve, Havilah, Hook's 5-year Cheddar, Idaho Goatster, Impromptu , Kashar, Kefir Italian Pasta Cheese, Lamb Chopper, Little Napoleon, Marco Polo, Midnight Moon®, Morgan, Nicasio Reserve, Organic Gouda, Pleasant Creek, Plymouth Cheese, Prairie Breeze Cheddar, Promontory, Regal Blend, Rofumo (Smoked Fontina), Rosemary Medium Asiago, Salsa Asiago, San Andreas, Sartori Classic Cheese Asiago, Sartori Classic Cheese Parmesan, Sartori Classic Cheese Romano, Sartori Limited Edition Cannella BellaVitano, Sartori Limited Edition Cognac Bellavitano, Sartori Limited Edition Family Heirloom BellaVitano, Sartori Limited Edition Family Heirloom Parmesan, Sartori Reserve Balsamic Bellavitano, Sartori Reserve Basil & Olive Oil Asiago, Sartori Reserve BellaVitano Gold, Sartori Reserve Chai Bellavitano, Sartori Reserve Extra-Aged Asiago, Sartori Reserve Extra Aged Fontina, Sartori Reserve Raspberry BellaVitano, Sartori Reserve Rosemary & Olive Oil Asiago, Sartori Reserve SarVecchio Parmesan, Seahive, Shelburne Cheddar, Shtayburne Farm Cheddar, Sicilian Blend, Stella Black Pepper Romano, Stella Mediterranean Parmesan, Stella Parmesan, Stella Parmesan & Romano Blend, Suffolk Punch, Swiss cheese,
Tarentaise
,
TeaHive
,
Tillamook Cheddar
,
Tillamook Smoked Black Pepper White Cheddar
,
Tuscan Blend
,
Veneto
,
Wagon Wheel
,
Wall Street Gold
,
Wasatch Mountain cheese
,
Woodside Alpine
Alpha Tolman
,
Alpine-Style
,
Anniversary Ale Cheddar
,
Bad Axe
,
Barden Blue
,
Baserri
,
Bayley Hazen Blue
,
Bear Hill
,
Beecher's Flagship
,
Bel Ceillo
,
... show all ... ,
Benedictine, Big Woods Blue, Bismark , Blue Ledge La Luna, Brick, Brimstone, Broncha, Buttermilk Blue, Butternut, Campfire, Carabiner, Carmody, Cave Aged Marisa, Caveman Blue, Cayuga Blue, Chapman's Pasture, Checkerboard Cheddar, Cheddar LaDiDa Lavender, Chocolate Stout Cheddar, Colby, Connemara, Consider Bardwell Farm Manchester, Cow's Milk Gouda, Dark / Snow Canyon Edam, Dilly Girl, Farmhouse Gouda, Fat Bottom Girl, Fiesta Cheddar, Flagship Block, Fontiago, Friesago, Goat Gouda, Good Thunder, Gotcha Gouda, Grand Cru Original, Grand Cru Reserve, Grand Cru Surchoix, GranQueso Original, GranQueso Reserve, Grated Kefir Cheese, Habanero Cheddar , Hannah, Heat, Hopyard Cheddar, Island Brebis, Jalapeno Cheddar, Kefir Peppercorn Cheese, Kefir Tomato-Garlic, Kefir Wine Companion, Kennebec Highlands Caerphilly, LaClare Farms Evalon, LaClare Farms Evalon with Cummin, LaClare Farms Evalon with Fenugreek, LaClare Ziege Zacke Blue, Landaff, Legacy, Longhorn, Maggie's Round, Maytag Blue, Menage, MezzaLuna Fontina, Mezzo Secco, Mi-Ewe, Mona, Mont Saint-Francis, Monterey Jack, Moonglo, Morimoto Soba Ale Cheddar, Mt. Mazama Cheddar, Muranda Blue, Natural Smoked Van Gogh Gouda, New Moon, Ocooch Mountain, Old Drovers Road, Old Goat, Opus 42, Pawlet, Peppercorn Gouda, Petite Swiss, Pinconning, Pistol Point Cheddar, Pleasant Ridge Reserve, Point Reyes Toma, Prairie Rose, Prairie Tomme, Processed Smoked Gouda, Queso de Mano, Red Buddy, Red Cloud, Redwood Hill Goat Cheddar, Ridgeline, Roasted Garlic Cheddar, Roth Raclette, Rupert , Sartori Classic MontAmore, Sartori Limited Edition Pastorale Blend, Sartori Reserve Black Pepper Bellavitano, Sartori Reserve Merlot Bellavitano, Scallion Onion Cheddar, Seascape, Sharp Cheddar, Sheep Gouda, Shtayburne Farm Monterey Jack, Smokey Oregon Blue, Smokey Touvelle, Sonoma Jack, Stella Fontinella, Stella Goat, Stella Kasseri, Sunlight, Table Rock, Thomasville Tomme, TouVelle Original, Twig Farm Goat Tomme, Twig Farm Mixed Drum,
Twig Farm Square Cheese
,
Txiki
,
Van Gogh Edam
,
Venus
,
Vermont Ayr
,
Vermont Herdsman
,
Vintage Van Gogh Gouda
,
Weston Wheel
,
Wimer Winter
,
Zwitser
Amablu Blue cheese
,
Ameribella
,
American Cheese
,
Appalachian
,
Applewood Smoked Chevre
,
Asher Blue
,
Baby Swiss
,
Beemster 2% Milk
,
Bergere Bleue
,
Bermuda Triangle
,
... show all ... ,
Bijou, Blue Lupine, Blue Yonder, Bossa, Boulder Chevre, Brutal Blue, Buttercup, Buttermilk Blue Affinee, Buttermilk Gorgonzola, Cacow Belle, Cameo, Carr Valley Glacier Wildfire Blue, Chevre en Marinade, Chile Caciotta, Chile Jack, Classic Blue Log, Colby-Jack, Cougar Gold, Cracked Pepper Chevre, Crema de Blue, Crocodile Tear, Crottin, Crowley, Daphne's Aged Goat Cheese, Daphne's Alpine Classic, Devil's Gulch, Dill & Garlic Chevre, Dirt Lover, Dorset , Echo Mountain Blue, Ellington, Formagella, Freya's Wheel, Funky Bleats, Fuzzy Wheel, Goat Cheddar, Goats' Milk Caciotta, Grayson, Halleck Creek, Herbes de Provence Chevre, Hidden Falls, Hillis Peak, Holey Cow, Humble Herdsman, Kefir Blue, Kinsman Ridge, LaClare Farms Cheddar, LaClare Farms Martone, LaClare Farms Raw Goats Milk Cheddar, Lincoln Log, Lindale, Lindy Hop, Little Ypsi, Loma Alta, Madrona, Marisa, Metronome, Midnight Blue, Miette, Mobay, Monastery Cheeses, Montchevre Goat Cheese Log, Moody Blue, Morcella, Moses Sleeper, Mountaineer, Mozzarellissima, Mun-chee, Nicasio Square, Off Kilter, Old Kentucky Tomme, Onion & Chives Cheddar, Oregon Blue Cheese, Oregonzola, Organic Beer-Brined Moochego, Original Havarti, Pack Square, Pepper Jack, Point Reyes Original Blue, President Camembert, Providence, Red Alder, Rheba, Roque River Blue - Special Reserve, Saint Rose, Salemville Amish Blue, Salemville Amish Gorgonzola, Salemville Smokehaus Blue, San Geronimo, Sartori Classic Cheese Fontina, Sartori Reserve Cheese Mediterranean Fontina, Schloss, Sea Change, Shredded Bliss, Smokey Mountain Round, St Pat, Stella Blue, Stella Fontina, Stella Gorgonzola, Stella Italian Sharp, Stella Reduced Fat Blue, Stella Smoked Blue, Stella Swiss, Stickney Hill Chevre, Takelma, The Manchester, Tieton Halloumi, Tomme ,
Truffle Tremor
,
Tuscan Blend
,
Twig Farm Crawford
,
Twig Farm Washed Rind Wheel
,
Vaquero Blue
,
Wabash Cannonball
,
Waldo Smog
,
West West Blue
,
Willoughby
,
Woolly Rind
Acapella
,
Aged Chelsea
,
Ashley
,
Aspen Ash
,
Bellwether Farms Crescenza
,
Bent River
,
Blissful Toppings
,
Bloomsdale
,
Blue Earth
,
Blythedale Camembert Vermont™
,
... show all ... ,
Bonne Bouche, Bridgewater, Bucheret , Bufala Soldier, California Crottin, Capriole Banon, Cashew Nut Cream Cheese , Chimney Rock, Cirrus, Classics Fresh Mozzarella, Cold Pack, ColoRouge, Cottage Cheese, Coupole, Cream Cheesy Bliss, Cremont, Crocodile Tear, Crottin, Cup Cheese, Dante, Detroit Street Brick, Farmer cheese, Flashback Goat Disks, Foggy Morning, Fresh Crottin, Fuzzy Udder Brie, Fuzzy Udder Washed Rind, Green Hill, Harbison, Haystack Mountain Camembert, Haystack Peak, Hidden Springs Farmstead Feta, Hooligan, Hoop Cheese, Hubbardston Blue Cow, Inverness, Julianna , Kenne, La Fleurie, Largo, Laura Chenel Taupiniere, Legato, Lil Moo, Little Bloom on the Prairie, Little Dragon, Marin French Triple Crème, Medallion, Melange, Melange Brie, Melinda Mae, Minuet , Monastery Cheeses, Moonlight Chaource, MouCo Camembert, Mt Tam, Muenster, Nettle Meadow Kunik, Nocturne , Oma, Organic Feta, Organic MooVache, Paniolo, Pastoral, Peekskill Pyramid, PepBert, Pianoforte, Picolo, Pierce Pt, Pimento, Piper's Pyramide, Point Reyes Bay Blue, Prix de Diane, Provel, Red Hawk, Rondo, Sandy Creek, Seastack, Siltcoos, Slices Of Bliss, Snowdrop, Sofia ,
Sonnet
,
Sunset Bay
,
Texas Goat Cheese
,
The City Goat
,
Triple Creme Brie
,
MouCo Truffello
,
Trufflestack
,
Vache Sante (Holy Cow)
,
Weybridge
,
Winnimere
Beehive Fresh
,
Bianca
,
Burrata
,
Cello Thick & Smooth Mascarpone
,
Chevre Log
,
Cream Cheese
,
Driftless
,
Fresh Chevre
,
Fresh Hand-Stretched Mozzarella
,
Fromage Blanc
,
... show all ... ,
Fromage Blanc with Truffle, Galbani, Green Dirt Farm Fresh Garlic & Peppercorn, Green Dirt Farm Fresh Nettle, Green Dirt Farm Fresh Plain, Green Dirt Farm Fresh Rosemary, Green Dirt Farm Fresh Spicy Chilis, Herbs de Humboldt, LaClare Farms Chevre, LaClare Farms Fondry Jack, Liptauer, Melville, Mettowee , Ms. Natural, Natural Chevre, Phoebe, Primo Fresco,
PsycheDillic
,
Purple Haze
,
Quark
,
Sgt. Pepper
,
Sharon Hollow Garlic and Chive
,
Shepherd's Hope
,
Up In Smoke
,
Valentine
,
Wasabi Disc
,
Westfield Farm Smoked Capri