Romano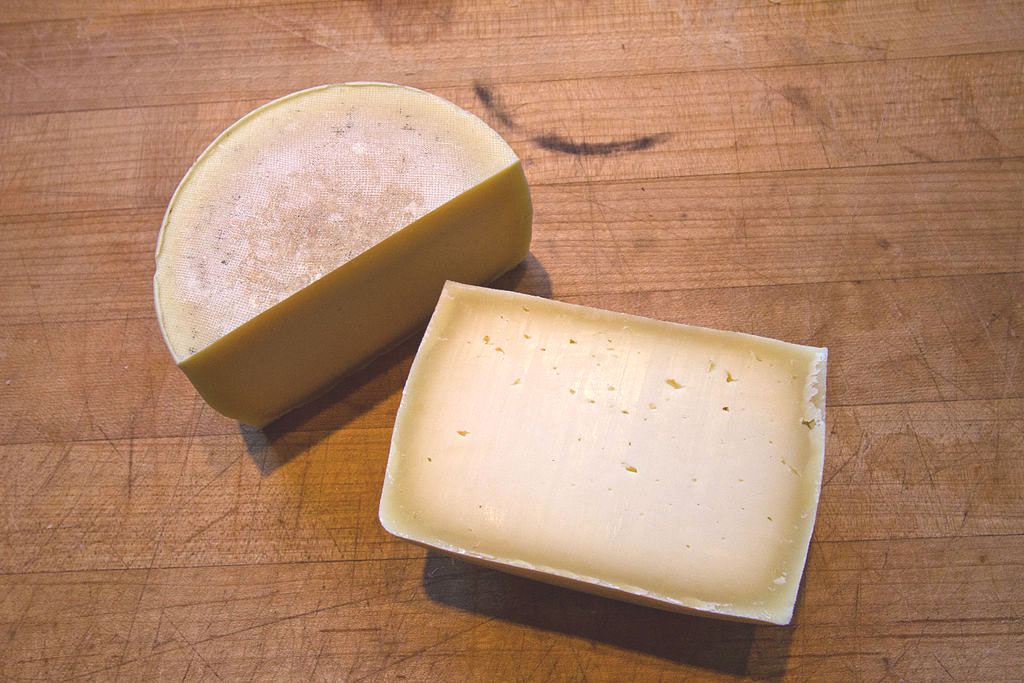 Romano is a hard cheese of Italian origin prepared predominantly with cow's milk or sheep's milk or goat's milk or mixtures of two or all of these. Made since the 1st century B.C., there are several types of Romano cheese. Determined by the type of milk used, name of Romano cheeses may be preceded by the word Vaccino (cow's milk), Pecorino (sheep's milk) or Caprino (goat's milk). The most famous example of Romano cheese is Pecorino Romano, an exclusive Italian cheese with DOP designation from the Italian government.  
One of the most popular Italian cheeses, Romano cheese is made from pasteurised or unpasteurised milk using animal, plant, or microbial rennet. It has a grainy texture, a hard and brittle rind and grates easily. The curing of Romano takes not less than 5 months and longer if it is planned for grating.
Every Romano cheese has its own peculiarities and shows different shades in texture, flavour and cooking uses. While Pecorino Romano, made from sheep's milk, is sharp and quite tangy the second type of Romano cheese, Caprino Romano made from goat's milk has an extremely sharp taste. The third variety made from cow's milk, Vacchino Romano, is very mild in flavour.
Romano cheese works excellent as a table cheese. It can be grated over pasta, soups and salad or shaved onto cooked dishes and cream sauces. Hard cheeses like Romano best pair with fruity wines like Riesling and Prosecco.
Other Italian cheeses:
Asiago d'Allevo DOP
,
Asiago DOP
,
Barilotto
,
Bella Lodi
,
Bootlegger
,
Bra Duro DOP
,
Calcagno
,
Canestrato
,
Caprotto
,
Carnia Altobut
,
... show all ... ,
Cinerino, Classico Riserva, Conciato Al Pepe, Cravero Parmigiano Reggiano, Cwmtawe Pecorino, Don Carlo, Fellowship Too, Gorgonzola Piccante DOP, Grana, Gran Bù, Gran Levante, Infossato, I' Rugoso, I' Serbo , Latteria Navel, Mastorazio , Montasio Vecchio, Parmesan, Pecorino, Pecorino di Sogliano, Pecorino di Talamello, Pecorino Gelsomino, Pecorino in Walnut Leaves, Pecorino Papavero, Pecorino Romano,
Piave
,
Piave Vecchio DOP
,
Piave Vecchio Selezione Oro
,
Ragusano
,
Ricotta Salata
,
Tartufo Riserva
,
Toscanello
,
Ubriaco di Nero D'avola
,
Zanetti Grana Padano
,
Zanetti Parmigiano Reggiano
Accasciato
,
Baronerosso di Capra
,
Brebis d'Azure
,
Briscola
,
Caciobufala
,
Caciocavallo di Bufala
,
Campi
,
Cap Cressy
,
Castelmagno
,
Classico Pecorino Senese
,
... show all ... ,
Cressy Blu, Crotonese, Di.Vino, Dolomitico , Duck Isles Stone, Fiore Sardo, Gloucester Goat, Half-Moon Bay, Hayloft, I' Blu , Isabirra, Montasio Mezzano, Muffato, Oro Italiano, Paglierino, Pallone di Gravina, Pecorino a Latte Crudo, Pecorino allo Zafferano, Pecorino Boccondilatte, Pecorino Con Caglio Vegetale , Pecorino Fiordaliso, Pecorino Foglie Noci, Pecorino Ginepro, Pecorino Gran Riserva Del Passatore, Pecorino Mallo di Noce, Pecorino Pera, Pecorino Romagnolo, Piave Fresco, Provolone, Provolone del Monaco, Provolone Mandarino Gran Riserva, Provolone Valpadana, Purple's a Must, Re di Pecora Erborinato al Tè Nero, Roccia del Piave, Rosso , Saporito,
Stella Asiago
,
Strawberry Moon
,
Toma
,
Toma Blu Alle Erbe
,
Ubriaco alla Birra
,
Ubriaco all'Amarone
,
Ubriaco al Prosecco
,
Ubriaco di Raboso
,
Ubriaco di Zibibbo
,
Ubriaco Rosso
3-Cheese Italian Blend
,
Alpe di Frabosa
,
Alta Badia
,
Asiago Pressato DOP
,
Basajo
,
Bel Paese
,
Bocconcini
,
Caciobarricato
,
Cacio De Roma®
,
Caciotta
,
... show all ... ,
Caciotta Al Tartufo, Capra al Fieno, Casatica, Casciotta di Urbino, Cilentano ai fichi, Condio, Cubetto , Don Olivo, Fontina Val d'Aosta, Fragolone, Gracie Grey, Il Boschetto al Tartufo, Lo Sburrato, Lou Bergier Pichin, Manteca , Margot, Montasio, Moringhello, Mozzarella, Nocciolino, Nocciolo, Pannerone, Pecorino alla Canapa, Pecorino al Pepe , Pecorino al Tartufo , Pecorino Barba Del Passatore, Pecorino Camomilla, Pecorino dei Malatesta al Sangiovese, Pecorino Dei Malatesta Sotto Cenere, Pecorino dei Monaci, Pecorino di Vigna, Pecorino Erica, Pecorino Nel Granaio, Pecorino Ortica, Pecorino Querciaiolo, Quadrello® di Bufala,
Raschera
,
Romaniae Terrae Pecorino allo Zafferano
,
Rustico® Black Pepper
,
Rustico® Red Pepper
,
Sbronzo
,
Scamorza
,
Sottocenere® al Tartufo
,
Taleggio
,
Toma Piemontese
,
Waupoos Lizzie
Blu '61
,
Blu Della Casera
,
Brillo di Treviso
,
Bufalino
,
Caciobirraio
,
Caciocavallo
,
Caciocavallo Podolico Vetus
,
Cacioradicchio
,
Capra al Pepe
,
Capraricca
,
... show all ... ,
Caprese di Bufala, Capri Blu, Caprice , Casu marzu, Counting Sheep…and Goats..., Cuor di burrata, Dolcelatte, Ficaccio, Forme', Gorgonzola, Gorgonzola Cremificato, Gorgonzola Dolce DOP, Latteria San Biagio, La Tur, Lo Speziato, Mascarpone Torta, Mozzarella di Bufala DOP, Nettles Gone Wild, Pannerone, Pecorino nel fieno,
Pecorino Nero
,
Perlagrigia Sotto Cenere
,
Quartirolo Lombardo
,
Rosso de lago
,
Speziato
,
Teneri
,
Toma di campo
,
Toma di vacca alle vinacce
,
Tozzetto
,
Yeo Lake
Top photos from Twitter