Castelmagno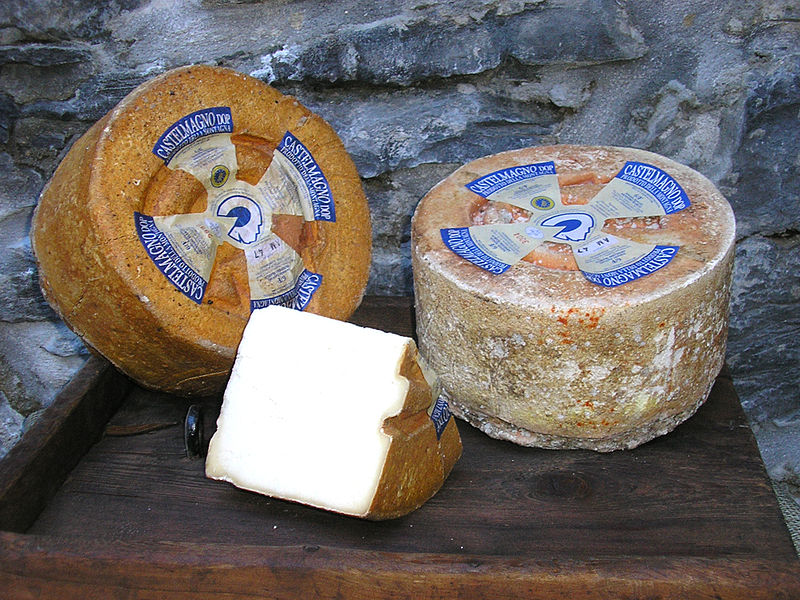 Country of origin: Italy

Region: Piedmont

Family: Blue

Type: semi-hard

Fat content: 34.2 g/100g

Calcium content: 4768 mg/100g

Rind: washed

Colour: ivory

Flavour: sharp, spicy, strong

Aroma: strong

Vegetarian: no

Alternative spellings: Castelmagno PDO, Castelmagno di alpeggio, Castelmagno prodotto della montagna
Castelmagno is a PDO (DOP) awarded Italian semi-hard, semi-fat blue cheese prepared within the administrative region of the communes of Castelmagno, Pradleves and Monterosso Grana in the province of Cuneo, Piedmont. Castelmagno is an ancient cheese with origins dating back to 1277, more or less at the same time as Gorgonzola. It is named after a Roman soldier who, despite being persecuted, kept on preaching gospels and gave its name to the famous sanctuary town of Castelmagno in Grana Valley.
The cylindrical-shaped cheese is made from cow's milk with a small addition of sheep and/or goat's milk. The milk utilized must come from communes protected by PDO designation to guarantee the product's authenticity. The ageing takes two to five months to get the characteristic traditional flavour.

It is a dense cheese with no open holes tending towards a grainier, crumbly texture. The pate colour leans from ivory white towards ochre-yellow with the presence of bluish-green veins of penicillium moulds. Covering the pate is a thin reddish-yellow rind, which turns wrinkly, and brownish-ochre as the cheese matures. The subtle taste of Castelmagno gets stronger, spicier and sharper as it ages.

Barolo, Reciota della Valpolicella, Chianti pair well with this cheese. It is appreciated as a table cheese and used to prepare typical Italian dishes such as gnocchi.
Other Italian cheeses:
30 month aged parmigiano reggiano 150g
,
Asiago DOP
,
Asiago d'Allevo DOP
,
Barilotto
,
Bella Lodi
,
Bootlegger
,
Bra Duro DOP
,
Calcagno
,
Canestrato
,
Caprotto
,
... show all ... ,
Carnia Altobut, Cinerino, Classico Riserva, Conciato Al Pepe, Cravero Parmigiano Reggiano, Cwmtawe Pecorino, Don Carlo, Fellowship Too, Gorgonzola Piccante DOP, Gran Bù, Gran Levante, Grana, I' Rugoso, I' Serbo , Infossato, Latteria Navel, Mastorazio , Parmesan, Pecorino, Pecorino di Sogliano, Pecorino di Talamello, Pecorino Gelsomino, Pecorino in Walnut Leaves, Pecorino Papavero, Pecorino Romano,
Piave
,
Piave Vecchio DOP
,
Piave Vecchio Selezione Oro
,
Ragusano
,
Ricotta Salata
,
Romano
,
Tartufo Riserva
,
Ubriaco di Nero D'avola
,
Zanetti Grana Padano
,
Zanetti Parmigiano Reggiano
Accasciato
,
Baronerosso di Capra
,
Brebis d'Azure
,
Briscola
,
Caciobufala
,
Caciocavallo di Bufala
,
Campi
,
Cap Cressy
,
Classico Pecorino Senese
,
Cressy Blu
,
... show all ... ,
Crotonese, Crucolo, Di.Vino, Dolomitico , Duck Isles Stone, Fiore Sardo, Gloucester Goat, Half-Moon Bay, Hayloft, I' Blu , Isabirra, Oro Italiano, Paglierino, Pallone di Gravina, Pecorino a Latte Crudo, Pecorino allo Zafferano, Pecorino Boccondilatte, Pecorino Con Caglio Vegetale , Pecorino Fiordaliso, Pecorino Foglie Noci, Pecorino Ginepro, Pecorino Gran Riserva Del Passatore, Pecorino Mallo di Noce, Pecorino Pera, Pecorino Romagnolo, Pepato, Piave Fresco, Provolone, Provolone del Monaco, Provolone Mandarino Gran Riserva, Provolone Valpadana, Purple's a Must, Re di Pecora Erborinato al Tè Nero, Roccia del Piave, Rosso , Saporito, Stella Asiago,
Strawberry Moon
,
Toma
,
Toma Blu Alle Erbe
,
Pecorino Toscanello
,
Ubriaco al Prosecco
,
Ubriaco alla Birra
,
Ubriaco all'Amarone
,
Ubriaco di Raboso
,
Ubriaco di Zibibbo
,
Ubriaco Rosso
3-Cheese Italian Blend
,
Alpe di Frabosa
,
Alta Badia
,
Asiago Pressato DOP
,
Basajo
,
Bel Paese
,
Bocconcini
,
Cacio De Roma®
,
Caciobarricato
,
Caciotta
,
... show all ... ,
Caciotta Al Tartufo, Capra al Fieno, Casatica, Casciotta di Urbino, Cilentano ai fichi, Condio, Cubetto , Don Olivo, Fontina, Fontina Val d'Aosta, Fragolone, Gracie Grey, Il Boschetto al Tartufo, Lo Sburrato, Lou Bergier Pichin, Manteca , Margot, Moringhello, Mozzarella, Nocciolino, Nocciolo, Pannerone, Pecorino al Pepe , Pecorino al Tartufo , Pecorino alla Canapa, Pecorino Barba Del Passatore, Pecorino Camomilla, Pecorino dei Malatesta al Sangiovese, Pecorino Dei Malatesta Sotto Cenere, Pecorino dei Monaci, Pecorino di Vigna, Pecorino Erica, Pecorino Nel Granaio, Pecorino Ortica, Pecorino Querciaiolo, Quadrello® di Bufala, Raschera,
Robiola Bosina Alta Langa
,
Romaniae Terrae Pecorino allo Zafferano
,
Rustico® Black Pepper
,
Rustico® Red Pepper
,
Sbronzo
,
Scamorza
,
Sottocenere® al Tartufo
,
Taleggio
,
Toma Piemontese
,
Waupoos Lizzie
Blu '61
,
Blu Della Casera
,
Brillo di Treviso
,
Bufalino
,
Caciobirraio
,
Caciocavallo
,
Caciocavallo Podolico Vetus
,
Cacioradicchio
,
Capra al Pepe
,
Capraricca
,
... show all ... ,
Caprese di Bufala, Capri Blu, Caprice , Casu marzu, Counting Sheep…and Goats..., Cuor di burrata, Dolcelatte, Ficaccio, Forme', Gorgonzola, Gorgonzola Cremificato, Gorgonzola Dolce DOP, La Tur, Latteria San Biagio, Lo Speziato, Mascarpone Torta, Morlacco, Mozzarella di Bufala DOP, Nettles Gone Wild, Pannerone, Pecorino nel fieno, Pecorino Nero,
Perlagrigia Sotto Cenere
,
Quartirolo Lombardo
,
Robiola Bosina Alta Langa
,
Rosso de lago
,
Speziato
,
Teneri
,
Toma di campo
,
Toma di vacca alle vinacce
,
Tozzetto
,
Yeo Lake