Cropwell Bishop Blue Stilton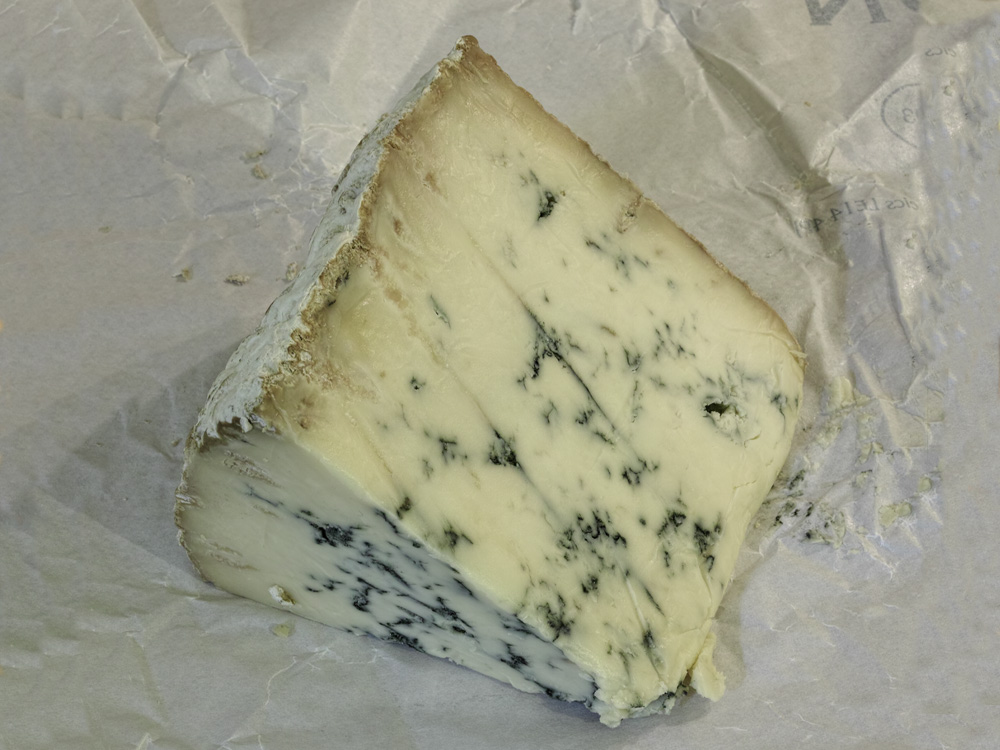 Made from pasteurized cow's milk

Country of origin: England, Great Britain and United Kingdom

Region: Nottinghamshire

Family: Blue

Type: semi-soft, artisan, blue-veined

Fat content: 33%

Rind: natural

Colour: cream

Flavour: creamy, strong, tangy

Aroma: pungent, rich, spicy

Vegetarian: yes

Producers: Cropwell Bishop Creamery Limited
This cheese is currently unavailable on official site.
Cropwell Bishop Blue Stilton produced by Cropwell Bishop Creamery Limited is traditional Stilton handmade from cow's milk using methods that have changed very little since the 17th century. Both traditional and Organic Blue Stilton are created using vegetarian rennet, meaning both are suitable for vegetarians.

The rich and creamy stilton is typically rubbed with salt mid-process and aged for 12 weeks to mature. This cultivates a rich and tangy cheese with a unique, strong flavour developed by the blue mould spores added to the milk. It offers a melt in the mouthfeel and velvety soft texture. The cheese is crumbly yet firm and has a dry brown wrinkled rind around a creamy ivory paste with blue veins that spread all the way to the edges.

This genuine classic tastes delicious with fresh, crusty bread, with any sweet chutney or jam, honey, pears and walnuts, regular cracker or biscuit. Try pairing the cheese with drinks such as Pudding wine, Port, Dry sherry, Claret for a great combination.

This celebrated cheese has won many medals at the Nantwich International Cheese Show and a Silver medal at the 2014 World Cheese Awards. 
Other English cheeses:
Appleby's Double Gloucester
,
Barber's 1833
,
Bermondsey Hard Pressed
,
Blue Wensleydale
,
Cheddar
,
Cheshire
,
Coverdale
,
Crumbly Lancashire
,
Davidstow 3 Year Reserve Special Vintage
,
Davidstow Extra Mature Cheddar
,
... show all ... ,
Davidstow Mature Cheddar, Denhany Dorset Drum, Double Gloucester, Double Worcester, Duddleswell, Gloucester, Gospel Green, Hereford Hop, Herriot Farmhouse, Keens Cheddar, Lincolnshire Poacher, Lyburn's Winchester, Marble Cheddar, Mature Wensleydale, Menallack Farmhouse, Millstone, Muddlewell, Old Harry,
Old Winchester
,
Seriously Strong Cheddar
,
Spenwood
,
Staffordshire Organic
,
Tasty Lancashire
,
Tregonwell
,
Tyning
,
Wellesley
,
Wellington
,
Wookey Hole Cave Aged Cheddar
Abbot's Gold
,
Applewood
,
Burwood Bole
,
Colston Bassett Stilton
,
Coquetdale
,
Cornish Wild Garlic Yarg
,
Cornish Yarg
,
Cotherstone
,
Cotswold
,
Curworthy
,
... show all ... ,
Derby, Devon Blue, Devon Garland, Friesla, Huntsman, Keltic Gold, Lyburn Gold, Lyburn Lightly Oak Smoked, Malvern,
Montgomery's Cheddar
,
Old Ford
,
Oxford Blue
,
Red Windsor
,
Sage Derby
,
Sharpham Rustic
,
Sharpham Rustic Chive & Garlic
,
Sharpham Savour
,
Stoney Cross
,
Ticklemore
Burwash Rose
,
Capra Nouveau
,
Cardo
,
Chorlton Blue Cheshire
,
Cornish Blue
,
Cornish Crumbly
,
Cornish Smuggler
,
Exmoor Blue
,
Francis
,
Gorwydd Caerphilly
,
... show all ... ,
Harbourne Blue, Innes Brick, Kirkham's Lancashire, Little Colonel, Loddiswell Avondale, Lyburn Garlic and Nettle,
May Hill Green
,
Miss Muffet
,
Ogleshield
,
Ringwell
,
Stichelton
,
Stilton
,
Tilly Whim
,
Trelawny
,
Waterloo
,
Wigmore
Baron Bigod
,
Bartlett
,
Bath Blue
,
Bath Cheese
,
Beenleigh Blue
,
Blacksticks Blue
,
Bosworth
,
Buxton Blue
,
Capricorn Somerset Goats Cheese
,
Cornish Brie
,
... show all ... ,
Cornish Pepper, Cote Hill Blue, Cranborne , Cremet , Delamere Goats Cheese Logs, Dorset White, Dorstone, Doublet, Dumpling, Emlett, Finn, Flower Marie, Golden Cross, Innes Log, Little Rydings, Old Burford, Ragstone,
Sharpham
,
Sharpham Elmhirst
,
Shepherd's Crook
,
Somerset Brie
,
Stawley
,
St Jude
,
Sussex Slipcote
,
Tunworth
,
Tymsboro
,
Yorkshire Blue
Other cheeses from Great Britain:
Appleby's Double Gloucester
,
Bermondsey Hard Pressed
,
Davidstow 3 Year Reserve Special Vintage
,
Davidstow Extra Mature Cheddar
,
Davidstow Mature Cheddar
,
Dorset Blue Vinny
,
Double Worcester
,
Hafod
,
Isle of Man Mature Cheddar
,
Isle of Man Mild Cheddar
,
... show all ... ,
Isle of Man Mild Coloured Cheddar, Leafield, Little Black Bomber,
Llanglofan Farmhouse
,
Lyburn's Winchester
,
Old Harry
,
Old Winchester
,
Penbryn
,
Seator's Orkney
,
Staffordshire Organic
,
Tregonwell
,
Tyn Grug
,
Wellesley
Abbot's Gold
,
Applewood
,
Burwood Bole
,
Colston Bassett Stilton
,
Cotswold
,
Devon Garland
,
Huntsman
,
Lyburn Gold
,
Lyburn Lightly Oak Smoked
,
Maisie's Kebbuck
,
Malvern
,
Montgomery's Cheddar
,
Old Ford
,
Sharpham Rustic
,
Sharpham Rustic Chive & Garlic
,
Sharpham Savour
,
Stoney Cross
,
Teifi
,
Ticklemore
,
White Stilton with Mango & Ginger
Other cheeses from United Kingdom:
Acorn
,
Appleby's Double Gloucester
,
Basing
,
Berkswell
,
Bermondsey Hard Pressed
,
Caerphilly
,
Cheshire
,
Coverdale
,
Davidstow 3 Year Reserve Special Vintage
,
Davidstow Extra Mature Cheddar
,
... show all ... ,
Davidstow Mature Cheddar, Double Gloucester, Double Worcester, Duddleswell, Dunlop, Extra Mature Wensleydale, Gloucester, Gospel Green, Hafod, Hereford Hop, Isle of Mull, Lairobell, Lincolnshire Poacher, Little Black Bomber, Llanglofan Farmhouse, Lyburn's Winchester, Marble Cheddar, Marble Cheese, Mature Wensleydale, Oak Smoked Wensleydale, Old Harry, Old Winchester, Orkney Extra Mature Cheddar, Orkney Mature Cheddar, Penbryn, Red Leicester,
Scotch Bonnet Cheddar
,
Seator's Orkney
,
Seriously Strong Cheddar
,
Spenwood
,
Staffordshire Organic
,
Tregonwell
,
Tyn Grug
,
Wellesley
,
Wensleydale
,
Wookey Hole Cave Aged Cheddar
Abbot's Gold
,
Applewood
,
Burwood Bole
,
Colston Bassett Stilton
,
Cotherstone
,
Cotswold
,
Criffel
,
Derby
,
Devon Blue
,
Devon Garland
,
... show all ... ,
Huntsman, Lord of the Hundreds, Lyburn Gold, Lyburn Lightly Oak Smoked, Maisie's Kebbuck, Malvern, Montgomery's Cheddar, Old Ford, Orkney Medium Coloured Cheddar, Oxford Blue,
Red Windsor
,
Sage Derby
,
Sharpham Rustic
,
Sharpham Rustic Chive & Garlic
,
Sharpham Savour
,
Stoney Cross
,
Teifi
,
Ticklemore
,
White Stilton with Mango & Ginger
,
Wyfe of Bath
Ailsa Craig
,
Burwash Rose
,
Celtic Promise
,
Chorlton Blue Cheshire
,
Exmoor Blue
,
Francis
,
Harbourne Blue
,
Harlech Truckle
,
Innes Brick
,
Kirkham's Lancashire
,
... show all ... ,
Lake District Extra Mature Cheddar, Little Colonel, Lyburn Garlic and Nettle,
May Hill Green
,
Ogleshield
,
Pembrokeshire Extra Mature Cheddar
,
Pembrokeshire Mature Cheddar
,
Red Dragon Truckle
,
Stichelton
,
Stinking Bishop
,
Tilly Whim
,
Waterloo
,
Wigmore
Baron Bigod
,
Bartlett
,
Bath Blue
,
Bath Cheese
,
Beenleigh Blue
,
Blacksticks Blue
,
Bonchester
,
Bosworth
,
Buxton Blue
,
Cornish Brie
,
... show all ... ,
Cote Hill Blue, Cottage Cheese, Cranborne , Cremet , Delamere Goats Cheese Logs, Dorset White, Dorstone, Dunsyre Blue, Finn, Flower Marie, Golden Cross,
Innes Log
,
Lake District Mature Cheddar
,
Ragstone
,
Sharpham
,
Sharpham Elmhirst
,
Somerset Brie
,
Stawley
,
St Jude
,
Tunworth
,
Yorkshire Blue