Swaledale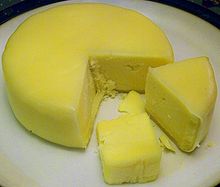 Swaledale cheese comes from the market town of Richmond located in North Yorkshire, England. It is believed that the process of cheese making was first introduced to the small farmers in Swaledale in the 11th century by Cistercian monks who arrived from Normandy and thus the Swaledale cheese was introduced to the world.
Produced with cow's pasteurised milk, this creamy and moist cheese with a light open texture and the slightly acidic taste is suitable for vegetarians. It can be enjoyed throughout the year since cows milk never goes out of stock.
Swaledale tastes the best if eaten when it is between 4 and 6 weeks old. Moreover, it proves to be a fantastic cooking cheese for preparing French cheese stews Tartiflette Au Reblochon.
Other English cheeses:
Appleby's Double Gloucester
,
Barber's 1833
,
Bermondsey Hard Pressed
,
Blue Wensleydale
,
Cheddar
,
Cheshire
,
Coverdale
,
Crumbly Lancashire
,
Davidstow 3 Year Reserve Special Vintage
,
Davidstow Extra Mature Cheddar
,
... show all ... ,
Davidstow Mature Cheddar, Denhany Dorset Drum, Double Gloucester, Double Worcester, Duddleswell, Gloucester, Gospel Green, Hereford Hop, Herriot Farmhouse, Keens Cheddar, Lincolnshire Poacher, Lyburn's Winchester, Marble Cheddar, Mature Wensleydale, Menallack Farmhouse, Millstone, Muddlewell, Old Harry,
Old Winchester
,
Seriously Strong Cheddar
,
Spenwood
,
Staffordshire Organic
,
Tasty Lancashire
,
Tregonwell
,
Tyning
,
Wellesley
,
Wellington
,
Wookey Hole Cave Aged Cheddar
Abbot's Gold
,
Applewood
,
Burwood Bole
,
Coquetdale
,
Cornish Wild Garlic Yarg
,
Cornish Yarg
,
Cotherstone
,
Cotswold
,
Curworthy
,
Derby
,
... show all ... ,
Devon Blue, Devon Garland, Friesla, Huntsman, Keltic Gold, Lyburn Gold, Lyburn Lightly Oak Smoked,
Malvern
,
Old Ford
,
Oxford Blue
,
Red Windsor
,
Sage Derby
,
Sharpham Rustic
,
Sharpham Rustic Chive & Garlic
,
Sharpham Savour
,
Stoney Cross
,
Wyfe of Bath Cheese
Burwash Rose
,
Capra Nouveau
,
Cardo
,
Chorlton Blue Cheshire
,
Cornish Blue
,
Cornish Crumbly
,
Cornish Smuggler
,
Exmoor Blue
,
Francis
,
Gorwydd Caerphilly
,
... show all ... ,
Harbourne Blue, Innes Brick, Kirkham's Lancashire, Little Colonel, Loddiswell Avondale, Lyburn Garlic and Nettle,
May Hill Green
,
Miss Muffet
,
Ogleshield
,
Ringwell
,
Stichelton
,
Stilton
,
Tilly Whim
,
Trelawny
,
Waterloo
,
Wigmore
Baron Bigod
,
Bartlett
,
Bath Blue
,
Bath Soft Cheese
,
Beauvale
,
Beenleigh Blue
,
Blacksticks Blue
,
Bosworth
,
Buxton Blue
,
Capricorn Somerset Goats Cheese
,
... show all ... ,
Cornish Brie, Cornish Pepper, Cote Hill Blue, Cranborne , Cremet , Delamere Goats Cheese Logs, Dorset White, Dorstone, Doublet, Dumpling, Emlett, Finn, Flower Marie, Golden Cross, Innes Log, Little Rydings, Old Burford, Ragstone,
Sharpham
,
Sharpham Elmhirst
,
Shepherd's Crook
,
Somerset Brie
,
St Jude
,
Stawley
,
Sussex Slipcote
,
Tunworth
,
Tymsboro
,
Yorkshire Blue