Oxford Blue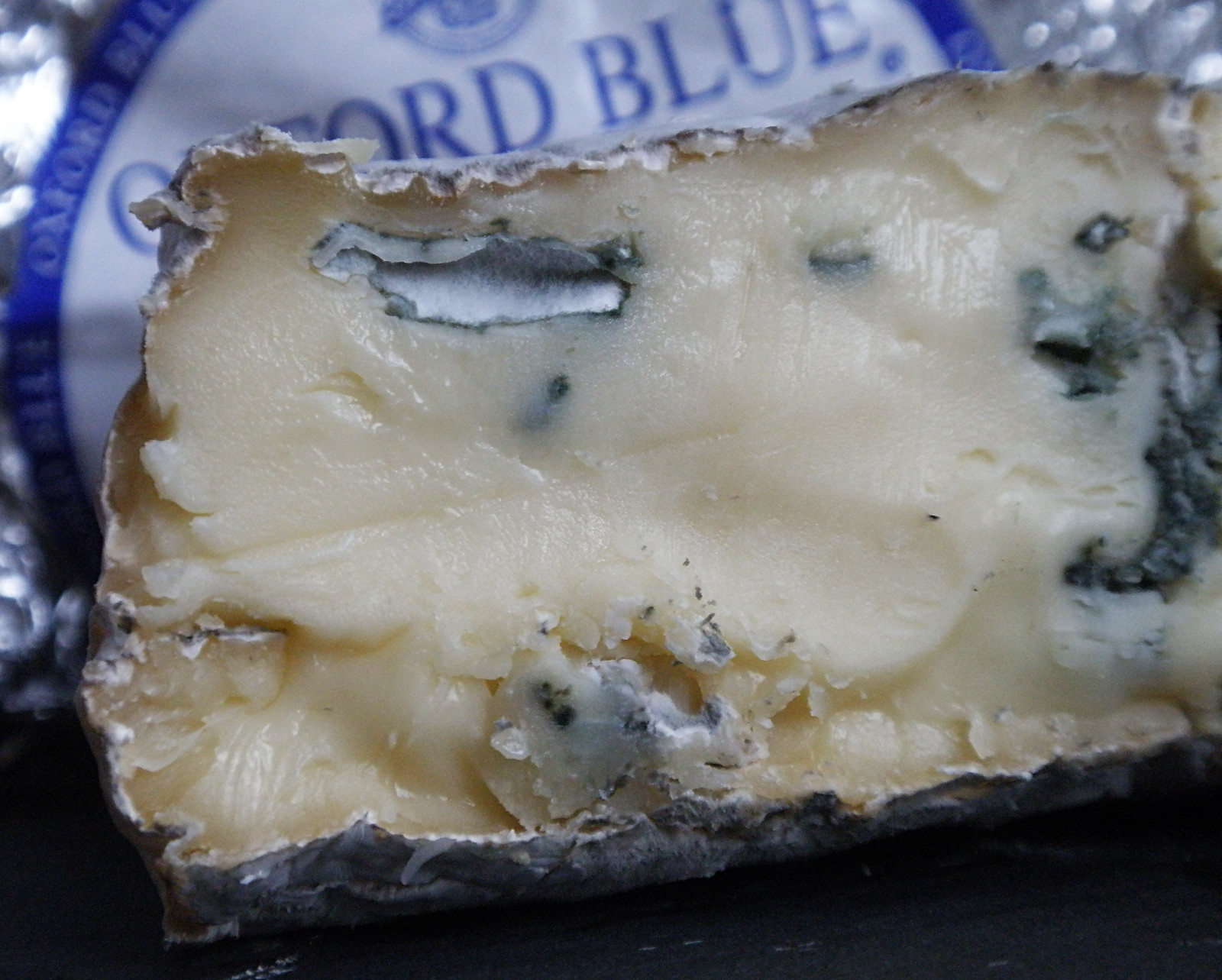 Made from pasteurized cow's milk

Country of origin: England and United Kingdom

Region: Buckinghamshire

Family: Blue

Type: semi-soft, artisan, blue-veined

Fat content: 30%

Texture: creamy

Rind: natural

Colour: white

Flavour: salty, sharp, spicy, tangy

Aroma: strong

Vegetarian: yes

Producers: Oxford Blue Cheese Company Ltd
With a view to overcome the lack of semi-soft English blue cheeses apart from Stilton, Oxford Cheese Company's MD, Baron Robert Pouget along with Steve Peace from Hartington creamery first produced Oxford Blue cheese at the Oxford Cheese Company in 1994. They wanted to make a cheese that could rival imports such as Dolcelatte, Cambozola and Fourme D'Ambert.
Oxford Blue cheese is a full-fat semi-soft Stilton-type blue cheese with a creamy texture and sharp clean flavour. It has won gold medals at the British cheese awards in 2001 and 2003.
With 30% fat, it is one of the best blue cheeses in the United Kingdom suitable for vegetarians. The cheese has a salty and tangy flavour served with White Wine.
Other English cheeses:
Appleby's Double Gloucester
,
Barber's 1833
,
Bermondsey Hard Pressed
,
Blue Wensleydale
,
Buffalo
,
Cheddar
,
Cheshire
,
Coverdale
,
Crumbly Lancashire
,
Davidstow 3 Year Reserve Special Vintage
,
... show all ... ,
Davidstow Extra Mature Cheddar, Davidstow Mature Cheddar, Denhany Dorset Drum, Double Gloucester, Double Worcester, Duddleswell, Gloucester, Gospel Green, Hereford Hop, Herriot Farmhouse, Keens Cheddar, Lincolnshire Poacher, Lyburn's Winchester, Marble Cheddar, Marbled Cheeses, Mature Wensleydale, Menallack Farmhouse, Millstone, Muddlewell, Old Harry,
Old Winchester
,
Seriously Strong Cheddar
,
Spenwood
,
Sraffordshire Organic
,
Tasty Lancashire
,
Tregonwell
,
Tyning
,
Wellesley
,
Wellington
,
Wookey Hole Cave Aged Cheddar
Abbot's Gold
,
Applewood
,
Burwood Bole
,
Colston Bassett Stilton
,
Coquetdale
,
Cornish Wild Garlic Yarg
,
Cornish Yarg
,
Cotherstone
,
Cotswold
,
Curworthy
,
... show all ... ,
Derby, Devon Blue, Devon Garland, Friesla, Huntsman, Keltic Gold, Lyburn Gold, Lyburn Lightly Oak Smoked,
Malvern
,
Montgomery's Cheddar
,
Old Ford
,
Red Windsor
,
Sage Derby
,
Sharpham Rustic
,
Sharpham Rustic Chive & Garlic
,
Sharpham Savour
,
Stoney Cross
,
Ticklemore
Burwash Rose
,
Capra Nouveau
,
Cardo
,
Chorlton Blue Cheshire
,
Cornish Blue
,
Cornish Crumbly
,
Cornish Smuggler
,
Cropwell Bishop Blue Stilton
,
Exmoor Blue
,
Francis
,
... show all ... ,
Harbourne Blue, Innes Brick, Kirkham's Lancashire, Little Colonel, Loddiswell Avondale, Lyburn Garlic and Nettle, Marbled Cheeses,
May Hill Green
,
Miss Muffet
,
Ogleshield
,
Ringwell
,
Stichelton
,
Stilton
,
Tilly Whim
,
Trelawny
,
Waterloo
,
Wigmore
Baron Bigod
,
Bartlett
,
Bath Blue
,
Bath Cheese
,
Beenleigh Blue
,
Blacksticks Blue
,
Bosworth
,
Buxton Blue
,
Capricorn Somerset Goats Cheese
,
Cornish Brie
,
... show all ... ,
Cornish Pepper, Cote Hill Blue, Cranborne , Cremet , Delamere Goats Cheese Logs, Dorset White, Dorstone, Doublet, Dumpling, Emlett, Finn, Flower Marie, Golden Cross, Innes Log, Little Rydings, Old Burford, Ragstone,
Sharpham
,
Sharpham Elmhirst
,
Shepherd's Crook
,
Somerset Brie
,
Stawley
,
St Jude
,
Sussex Slipcote
,
Tunworth
,
Tymsboro
,
Yorkshire Blue
Other cheeses from United Kingdom:
Acorn
,
Appleby's Double Gloucester
,
Basing
,
Berkswell
,
Bermondsey Hard Pressed
,
Buffalo
,
Caerphilly
,
Cheshire
,
Coverdale
,
Davidstow 3 Year Reserve Special Vintage
,
... show all ... ,
Davidstow Extra Mature Cheddar, Davidstow Mature Cheddar, Double Gloucester, Double Worcester, Duddleswell, Dunlop, Extra Mature Wensleydale, Gloucester, Gospel Green, Hafod, Hereford Hop, Isle of Mull, Lairobell, Lincolnshire Poacher, Little Black Bomber, Llanglofan Farmhouse, Lyburn's Winchester, Marble Cheddar, Marbled Cheeses, Mature Wensleydale, Oak Smoked Wensleydale, Old Harry, Old Winchester, Orkney Extra Mature Cheddar, Orkney Mature Cheddar, Penbryn, Red Leicester,
Scotch Bonnet Cheddar
,
Seator's Orkney
,
Seriously Strong Cheddar
,
Spenwood
,
Sraffordshire Organic
,
Tregonwell
,
Tyn Grug
,
Wellesley
,
Wensleydale
,
Wookey Hole Cave Aged Cheddar
Abbot's Gold
,
Applewood
,
Burwood Bole
,
Colston Bassett Stilton
,
Cotherstone
,
Cotswold
,
Criffel
,
Derby
,
Devon Blue
,
Devon Garland
,
... show all ... ,
Huntsman, Lord of the Hundreds, Lyburn Gold, Lyburn Lightly Oak Smoked, Maisie's Kebbuck, Malvern, Montgomery's Cheddar, Old Ford, Orkney Medium Coloured Cheddar,
Red Windsor
,
Sage Derby
,
Sharpham Rustic
,
Sharpham Rustic Chive & Garlic
,
Sharpham Savour
,
Stoney Cross
,
Teifi
,
Ticklemore
,
White Stilton with Mango & Ginger
,
Wyfe of Bath
Ailsa Craig
,
Burwash Rose
,
Celtic Promise
,
Chorlton Blue Cheshire
,
Cropwell Bishop Blue Stilton
,
Exmoor Blue
,
Francis
,
Gorwydd Caerphilly
,
Harbourne Blue
,
Harlech Truckle
,
... show all ... ,
Innes Brick, Kirkham's Lancashire, Lake District Extra Mature Cheddar, Little Colonel, Lyburn Garlic and Nettle, Marbled Cheeses,
May Hill Green
,
Ogleshield
,
Pembrokeshire Extra Mature Cheddar
,
Pembrokeshire Mature Cheddar
,
Red Dragon Truckle
,
Stichelton
,
Stinking Bishop
,
Tilly Whim
,
Waterloo
,
Wigmore
Baron Bigod
,
Bartlett
,
Bath Blue
,
Bath Cheese
,
Beenleigh Blue
,
Blacksticks Blue
,
Bonchester
,
Bosworth
,
Buxton Blue
,
Cornish Brie
,
... show all ... ,
Cote Hill Blue, Cottage Cheese, Cranborne , Cremet , Delamere Goats Cheese Logs, Dorset White, Dorstone, Dunsyre Blue, Finn, Flower Marie, Golden Cross,
Innes Log
,
Lake District Mature Cheddar
,
Ragstone
,
Sharpham
,
Sharpham Elmhirst
,
Somerset Brie
,
Stawley
,
St Jude
,
Tunworth
,
Yorkshire Blue