Tomme de Savoie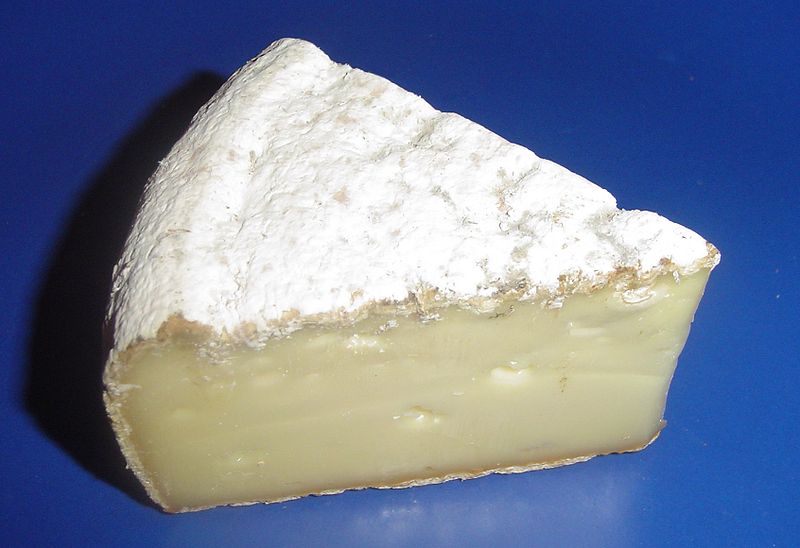 Tomme is a name given to a family of cheeses produced in the French Alps and Switzerland. Generally, all Tomme cheeses are named after the village where they are produced. Tomme de Savoie is one such variety of Tomme cheese made in the Savoie region of northwestern France.
Tomme de Savoie is made from raw, skimmed cow's milk after the cream has been drained off to make butter. That is why it is low in fat content, about 20-40%. The taste of the cheese varies throughout the year depending on whether the milk is coming from cows eating winter hay or fresh summer grass. The maturing takes around 2-4 months during which the cheese starts to develop a thick grey rind dotted with patches of yellow or red moulding. Tomme de Savoie is a semi-soft, pressed cheese with a pliable and firm texture. It has numerous irregular "eyes" spread throughout the ivory-coloured paste. The flavours are of grass, nuts and rusticity. Expect some tangy, slight citrus and mushroom notes underlined by the odours of a cave.
The cheese pairs best with medium-bodied red wines from Côtes du Rhône, sausages, fruits and bread.
Other French cheeses:
Abbaye de Belloc
,
Abbaye de Belval
,
Abbaye de Timadeuc
,
Abondance
,
Ambert
,
Aubisque Pyrenees
,
Babybel
,
Bergues
,
Bethmale des Pyrenees
,
Brebis du Lavort
,
... show all ... ,
Cantal, Comte, Esbareich, Fourme de Montbrison, Fromage a Raclette, Istara Chistou, La Couronne - Fort Aged Comté, Laguiole, Matocq, Mimolette (Boule de Lille),
Pas de l'Escalette
,
Petit Pardou
,
President Madrigal
,
P'tit Basque
,
Salers
,
Tomme de Romans
,
Tourmalet
,
Trappiste de Bricquebec
,
Trou du Cru
,
Zelu Koloria
Abbaye de Citeaux
,
Abbaye du Mont des Cats
,
Aisy Cendre
,
Ami du Chambertin
,
Aromes au Gene de Marc
,
Baskeriu
,
Beaumont
,
Beemster 2% Milk
,
Bleu d'Auvergne
,
Bleu Des Causses
,
... show all ... ,
Brie de Melun, Brin, Brin d'Amour, Calenzana (Calinzanincu), Chabichou du Poitou, Charolais, Chaumes, Chevre, Dauphin, Delice des Fiouves, Fleur du Maquis, Fromage de Montagne de Savoie, Langres, La Vache Qui Rit cheese, Le Brebiou, Le Brin, Lou Palou, Mamirolle, Monastery Cheeses, Mont D'or Lyonnais, Morbier, Murol, Neufchatel, Pave d'Auge, Port-Salut,
Reblochon
,
Rollot
,
Roquefort
,
Sainte Maure
,
Saint-Nectaire
,
Saint-Paulin
,
Sourire Lozerien
,
Tomme de Chevre
,
Tommes
,
Trappiste d'Igny
Abbaye de Tamié
,
Affidelice au Chablis
,
Alpicrème
,
Amalthée
,
Anneau du Vic-Bilh
,
Baby Brie
,
Baguette Laonnaise
,
Banon
,
Barberey
,
Belletoile
,
... show all ... ,
Bleu de Laqueuille, Bougon, Boule Du Roves, Bourdin Goat Log, Boursault, Boursin, Bouyssou, Brebirousse d'Argental, Brebis du Puyfaucon, Bresse Bleu, Brie, Brie au poivre (Brie with pepper), Brie de Meaux, Brillat-Savarin, Briquette de Brebis, Briquette du Forez, Brousse du Rove, Buche de Chevre, Bûchette à la Sarriette, Buchette d'Anjou, Butte, Cabecou, Cachaille, Camembert, Camembert de Normandie, Cancoillotte (Cancoyotte), Caprice des Dieux, Carre de l'Est, Casu marzu, Cathelain, Cendre d'Olivet, Chabichou du Poitou, Chabis de Gatine, Chaource, Chaumes, Chavroux, Chevre, Chevrotin des Aravis, Civray, Coeur de Camembert au Calvados, Coeur de Chevre, Coulommiers, Couronne Lochoise, Crayeux de Roncq, Crottin de Chavignol, Cure Nantais, Delice de Bourgogne, Delice des Fiouves, Dreux a la Feuille, Epoisses de Bourgogne, Explorateur, Figue, Filetta, Fin-de-Siecle, Fondant de Brebis, Fontainebleau, Fougerus, Fourme de Haute Loire, Frinault, Fromage Corse, Galette du Paludier, Galette Lyonnaise, Gastanberra, Gourmandise, Grand Vatel, Grataron d' Areches, Gratte-Paille, Greuilh, Gris de Lille, Guerbigny, Kiri, Laruns, La Taupiniere, L'Aveyronnais, Le Chevrot, L'Ecir de l'Aubrac, Le Conquerant Camembert, Le Conquerant Demi Pont L'eveque , Le Duc Vacherin, Le Fium Orbo, Le Lacandou, Le Marquis Chevre, Lingot des Causses, Lingot Saint Bousquet d'Orb, Livarot, Lou Pevre, Macconais, Maroilles, Monastery Cheeses, Mothais a la Feuille, Munster, Nantais, Niolo, Olivet au Foin, Olivet Bleu, Olivet Cendre, Palet de Babligny, Pate de Fromage, Patefine Fort, Pave de Chirac, Pelardon des Cevennes, Pelardon des Corbieres, Perail de Brebis, Picodon de Chevre, Pigouille, Pithtiviers au Foin, Poivre d'Ane, Pont l'Eveque, Pouligny-Saint-Pierre, Pourly, President Brie, President Light Brie, P'tit Berrichon, Pyramide, Quatre-Vents, Quercy Petit, Regal de la Dombes, Rigotte, Rocamadour, Rochebaron, Romans Part Dieu, Rouleau De Beaulieu, Rustinu, Saint Agur, Saint Albray, Saint-André, Saint Félicien, Saint-Marcellin,
Selles sur Cher
,
Soumaintrain
,
Tomme des Chouans
,
Touree de L'Aubier
,
Trappe de la Coudre
,
Vacherin
,
Valencay
,
Venaco
,
Vieux Corse
,
Vignotte