Brie de Melun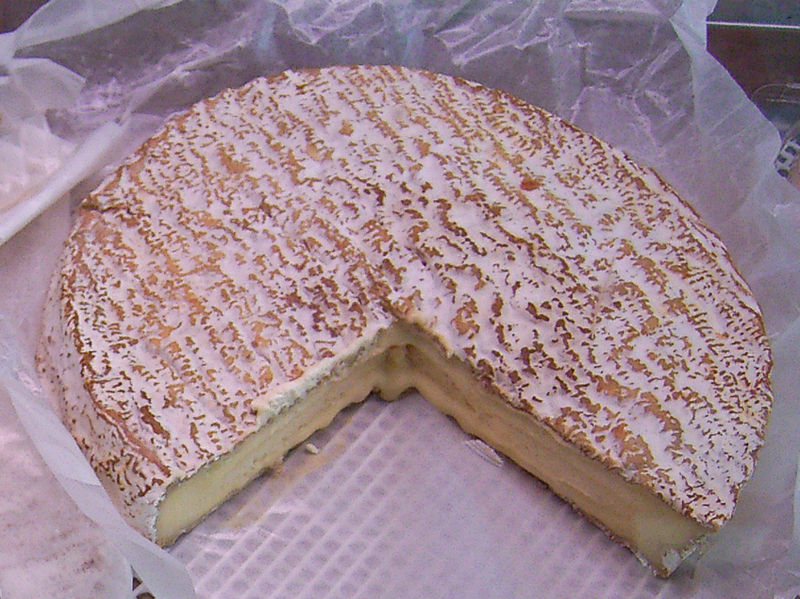 Brie de Melun is said to be the ancestor of all Brie's, which originated in the region of northern France known as Seine-et-Marne. It was granted an AOC protection in 1980 that requires that the cheese be manufactured under strict guidelines for supreme quality.
Brie de Melun is produced from either whole or skimmed, raw milk of cows grazing in the valleys of Seine et Marne and some departments of Aube and Yonne. It is semi-soft cheese inoculated with a Penicillium mould and aged in a cellar for at least 4-5 weeks. If the cheese is left to ripen for a longer period, say several months, it matures to a Brie Noir.
It is an aromatic cheese with slightly musty and straw-like smells floating in the air. Over-ripening the Brie can result in an unpleasant odour from bacteria used to ripen the mould. The texture is semi-soft, and the rind is slightly dry. The rind turns darker and crumbly as the cheese matures to a Brie Noir. In addition, the pate is drier and darker, and the flavour is stronger to taste. The usual flavours are strongly lactic and slightly salty, finished by soft, barnyard, sour notes. Brie de Melun is used to prepare regional dishes like croûte au brie. It pairs well with Gaillac and wines from Burgundy or the Rhone Valley.
Other French cheeses:
Abbaye de Belloc
,
Abbaye de Belval
,
Abbaye de Timadeuc
,
Abondance
,
Aubisque Pyrenees
,
Babybel
,
Bergues
,
Bethmale des Pyrenees
,
Brebis du Lavort
,
Cantal
,
... show all ... ,
Comte, Esbareich, Fourme d'Ambert AOC, Fourme de Montbrison, Fromage a Raclette, Istara Chistou, La Couronne - Fort Aged Comté, Laguiole, Matocq, Mimolette (Boule de Lille),
Pas de l'Escalette
,
Petit Pardou
,
President Madrigal
,
P'tit Basque
,
Salers
,
Tomme de Romans
,
Tourmalet
,
Trappiste de Bricquebec
,
Trou du Cru
,
Zelu Koloria
Abbaye de Citeaux
,
Abbaye du Mont des Cats
,
Aisy Cendre
,
Ami du Chambertin
,
Aromes au Gene de Marc
,
Baskeriu
,
Beaumont
,
Beemster 2% Milk
,
Bleu d'Auvergne
,
Bleu Des Causses
,
... show all ... ,
Brin, Brin d'Amour, Calenzana (Calinzanincu), Camembert Calvados, Chabichou du Poitou, Charolais, Chaumes, Chèvre, Dauphin, Delice des Fiouves, Fleur du Maquis, Fromage de Montagne de Savoie, La Vache Qui Rit cheese, L'Affine Au Chablis, Langres, Le Brebiou, Le Brin, Lou Palou, Mamirolle, Monastery Cheeses, Mont D'or, Morbier, Murol, Neufchatel, Pave d'Auge, Port-Salut, Reblochon AOC,
Rollot
,
Roquefort
,
Saint-Nectaire
,
Saint-Paulin
,
Sainte-Maure de Touraine AOC
,
Sourire Lozerien
,
Tomme de Chevre
,
Tomme de Savoie
,
Tommes
,
Trappiste d'Igny
Affidelice au Chablis
,
Alpicrème
,
Amalthée
,
Anneau du Vic-Bilh
,
Baby Brie
,
Baguette Laonnaise
,
Banon
,
Barberey
,
Belletoile
,
Bleu de Laqueuille
,
... show all ... ,
Bougon, Boule Du Roves, Bourdin Goat Log, Boursault, Boursin, Bouyssou, Brebirousse d'Argental, Brebis du Puyfaucon, Bresse Bleu, Brie, Brie au poivre (Brie with pepper), Brie de Meaux, Brillat-Savarin, Briquette de Brebis, Briquette du Forez, Brousse du Rove, Buche de Chevre, Buchette d'Anjou, Bûchette à la Sarriette, Butte, Cabecou, Cachaille, Camembert, Camembert Calvados, Camembert de Normandie, Cancoillotte (Cancoyotte), Caprice des Dieux, Carre de l'Est, Casu marzu, Cathelain, Cendre d'Olivet, Chabis de Gatine, Chaource, Chaumes, Chavroux, Chèvre, Chevrotin des Aravis, Civray, Coeur de Camembert au Calvados, Coeur de Chevre, Coulommiers, Couronne Lochoise, Crayeux de Roncq, Cure Nantais, Delice de Bourgogne, Delice des Fiouves, Dreux a la Feuille, Epoisses de Bourgogne, Explorateur, Figue, Filetta, Fin-de-Siecle, Fondant de Brebis, Fontainebleau, Fougerus, Fourme de Haute Loire, Frinault, Fromage Corse, Galette du Paludier, Galette Lyonnaise, Gastanberra, Gourmandise, Grand Vatel, Grataron d' Areches, Gratte-Paille, Greuilh, Gris de Lille, Guerbigny, Kiri, La Taupiniere, L'Affine Au Chablis, Laruns, L'Aveyronnais, Le Chevrot, Le Conquerant Camembert, Le Conquerant Demi Pont L'eveque , Le Duc Vacherin, Le Fium Orbo, Le Lacandou, Le Marquis Chevre, L'Ecir de l'Aubrac, Lingot des Causses, Lingot Saint Bousquet d'Orb, Livarot, Lou Pevre, Macconais, Maroilles, Monastery Cheeses, Mothais a la Feuille, Munster, Nantais, Olivet au Foin, Olivet Bleu, Olivet Cendre, Palet de Babligny, Pate de Fromage, Patefine Fort, Pave de Chirac, Pelardon des Cevennes, Pelardon des Corbieres, Pérail de Brebis, Petit Blaja, Picodon de Chevre, Pigouille, Pithtiviers au Foin, Poivre d'Ane, Pont l'Eveque, Pouligny-Saint-Pierre, Pourly, President Brie, President Light Brie, P'tit Berrichon, Pyramide, Quatre-Vents, Quercy Petit, Regal de la Dombes, Rigotte, Rocamadour, Rochebaron, Romans Part Dieu, Rouleau De Beaulieu, Rustinu, Saint Agur, Saint Albray, Saint-André, Saint Félicien, Saint-Marcellin, Selles sur Cher,
Soumaintrain
,
Abbaye de Tamié
,
Tomme des Chouans
,
Touree de L'Aubier
,
Trappe de la Coudre
,
Vacherin
,
Valencay
,
Venaco
,
Vieux Corse
,
Vignotte