Petit-Suisse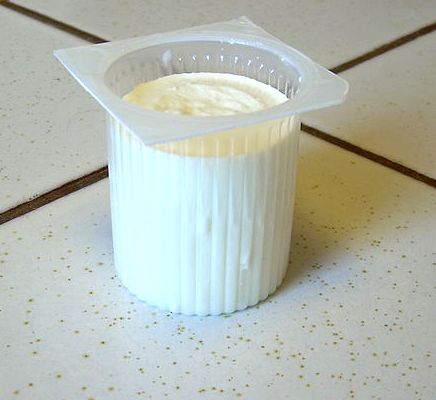 Made from cow's milk

Country of origin: France

Region: Normandy , Auvilliers

Type: fresh soft

Fat content: 40%

Rind: rindless

Colour: white

Flavour: mild, sour, sweet, tangy

Aroma: fresh

Producers: Danone

Alternative spellings: suisse double, double petit-suisse, double Suisse
Usually, because of its name, people wrongly attribute Petit-Suisse to Switzerland. In fact, it is a French cheese, first made in Normandy in 1850, in a dairy of Auvilliers near Beauvais. It was the idea of a Swiss employee at the dairy who suggested that adding cream to the curd will enrich the flavour of the cheese.
Petit-Suisse is a fresh cheese – unripened, unsalty, smooth and creamy. Its texture is more comparable to a thick yogurt than a cheese. Made from cow's milk, it is enriched with cream so that it contains at least 40% fat content.
The 30g version of the cheese is called Petit-Suisse while larger packagings are referred to as a double Suisse, double petit-suisse or suisse double.
Petit-Suisse has a mixture of sweet and sour flavour, and it tastes delicious with jam, fruit, honey and nuts. It is sometimes salted and peppered with herbs. This cheese is also used as a base for several traditional French desserts.
Other French cheeses:
Abbaye de Belloc
,
Abbaye de Belval
,
Abbaye de Timadeuc
,
Abondance
,
Ambert
,
Aubisque Pyrenees
,
Babybel
,
Bergues
,
Bethmale des Pyrenees
,
Brebis du Lavort
,
... show all ... ,
Cantal, Comte, Esbareich, Fourme de Montbrison, Fromage a Raclette, Istara Chistou, La Couronne - Fort Aged Comté, Laguiole, Matocq, Mimolette (Boule de Lille),
Pas de l'Escalette
,
Petit Pardou
,
President Madrigal
,
P'tit Basque
,
Salers
,
Tomme de Romans
,
Tourmalet
,
Trappiste de Bricquebec
,
Trou du Cru
,
Zelu Koloria
Abbaye de Citeaux
,
Abbaye du Mont des Cats
,
Aisy Cendre
,
Ami du Chambertin
,
Aromes au Gene de Marc
,
Baskeriu
,
Beaumont
,
Beemster 2% Milk
,
Bleu d'Auvergne
,
Bleu Des Causses
,
... show all ... ,
Brie de Melun, Brin, Brin d'Amour, Calenzana (Calinzanincu), Chabichou du Poitou, Charolais, Chaumes, Chevre, Dauphin, Delice des Fiouves, Fleur du Maquis, Fromage de Montagne de Savoie, Langres, La Vache Qui Rit cheese, Le Brebiou, Le Brin, Lou Palou, Mamirolle, Monastery Cheeses, Mont D'or Lyonnais, Morbier, Murol, Neufchatel, Pave d'Auge, Port-Salut, Reblochon,
Rollot
,
Roquefort
,
Sainte Maure
,
Saint-Nectaire
,
Saint-Paulin
,
Sourire Lozerien
,
Tomme de Chevre
,
Tomme de Savoie
,
Tommes
,
Trappiste d'Igny
Abbaye de Tamié
,
Affidelice au Chablis
,
Alpicrème
,
Amalthée
,
Anneau du Vic-Bilh
,
Baby Brie
,
Baguette Laonnaise
,
Banon
,
Barberey
,
Belletoile
,
... show all ... ,
Bleu de Laqueuille, Bougon, Boule Du Roves, Bourdin Goat Log, Boursault, Boursin, Bouyssou, Brebirousse d'Argental, Brebis du Puyfaucon, Bresse Bleu, Brie, Brie au poivre (Brie with pepper), Brie de Meaux, Brillat-Savarin, Briquette de Brebis, Briquette du Forez, Brousse du Rove, Buche de Chevre, Bûchette à la Sarriette, Buchette d'Anjou, Butte, Cabecou, Cachaille, Camembert, Camembert de Normandie, Cancoillotte (Cancoyotte), Caprice des Dieux, Carre de l'Est, Casu marzu, Cathelain, Cendre d'Olivet, Chabichou du Poitou, Chabis de Gatine, Chaource, Chaumes, Chavroux, Chevre, Chevrotin des Aravis, Civray, Coeur de Camembert au Calvados, Coeur de Chevre, Coulommiers, Couronne Lochoise, Crayeux de Roncq, Crottin de Chavignol, Cure Nantais, Delice de Bourgogne, Delice des Fiouves, Dreux a la Feuille, Epoisses de Bourgogne, Explorateur, Figue, Filetta, Fin-de-Siecle, Fondant de Brebis, Fontainebleau, Fougerus, Fourme de Haute Loire, Frinault, Fromage Corse, Galette du Paludier, Galette Lyonnaise, Gastanberra, Gourmandise, Grand Vatel, Grataron d' Areches, Gratte-Paille, Greuilh, Gris de Lille, Guerbigny, Kiri, Laruns, La Taupiniere, L'Aveyronnais, Le Chevrot, L'Ecir de l'Aubrac, Le Conquerant Camembert, Le Conquerant Demi Pont L'eveque , Le Duc Vacherin, Le Fium Orbo, Le Lacandou, Le Marquis Chevre, Lingot des Causses, Lingot Saint Bousquet d'Orb, Livarot, Lou Pevre, Macconais, Maroilles, Monastery Cheeses, Mothais a la Feuille, Munster, Nantais, Niolo, Olivet au Foin, Olivet Bleu, Olivet Cendre, Palet de Babligny, Pate de Fromage, Patefine Fort, Pave de Chirac, Pelardon des Cevennes, Pelardon des Corbieres, Perail de Brebis, Picodon de Chevre, Pigouille, Pithtiviers au Foin, Poivre d'Ane, Pont l'Eveque, Pouligny-Saint-Pierre, Pourly, President Brie, President Light Brie, P'tit Berrichon, Pyramide, Quatre-Vents, Quercy Petit, Regal de la Dombes, Rigotte, Rocamadour, Rochebaron, Romans Part Dieu, Rouleau De Beaulieu, Rustinu, Saint Agur, Saint Albray, Saint-André, Saint Félicien, Saint-Marcellin,
Selles sur Cher
,
Soumaintrain
,
Tomme des Chouans
,
Touree de L'Aubier
,
Trappe de la Coudre
,
Vacherin
,
Valencay
,
Venaco
,
Vieux Corse
,
Vignotte