Ossau-Iraty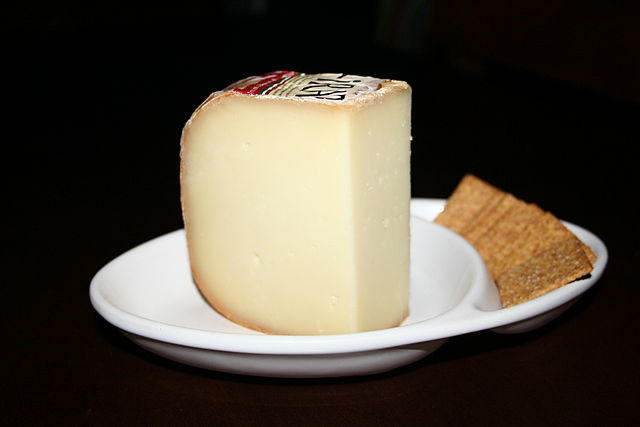 Made from unpasteurized sheep's milk

Country of origin: France

Region: Bearn & Iraty

Type: firm, artisan

Rind: natural

Colour: ivory

Flavour: buttery, fruity, herbaceous, nutty

Aroma: earthy, grassy

Vegetarian: no

Synonyms: Ossau au Piment d'Espelette, Ossau-Iraty, Ossau Irati, Istara Ossau Iraty, Ossau Fermier
Ossau-Iraty (or Esquirrou) is a traditional, unpasteurised ewe's milk cheese from the picturesque mountains of Pyrenees that hold a fertile grazing land for the milk-giving ewes. This cheese unites two regions of France in the Western Pyrénées: Ossau valley of Bearn and Iraty Forest of Basque Country. It received an AOC protection in 1980, which requires that the cheese be produced with the milk of only two breeds of ewes - Manech and Basco-Béarnaise.
An uncooked and pressed cheese, Ossau-Iraty is semi-hard in texture with a thick, buff rind marked with rust and grey moulds. Beneath the brown and orange rind is an ivory white, supple and slightly grainy interior that has a creamy and buttery mouth feel. Flavours are herbaceous, nutty and fruity if the produce is from winter while the summer cheeses tend to reveal aromas of grass and flowers.
Matured for at least 6 months, Ossau-Iraty often comes in a flat cylindrical shape. There are three main sizes available, small (Petit-Ossau-Iraty-Brebis Pyrenes), intermediate (non-fermier) and large (fermier). It is sometimes dusted with paprika leaves to add a kick of flavour. It tastes delicious with fruity red, full-bodied red or white wines such as Zinfandel, Tempranillo or Syrah.
Other French cheeses:
Abbaye de Belloc
,
Abbaye de Belval
,
Abbaye de Timadeuc
,
Abondance
,
Aubisque Pyrenees
,
Babybel
,
Bergues
,
Bethmale des Pyrenees
,
Brebis du Lavort
,
Cantal
,
... show all ... ,
Comte, Esbareich, Fourme d'Ambert AOC, Fourme de Montbrison, Fromage a Raclette, Istara Chistou, La Couronne - Fort Aged Comté, Laguiole, Matocq, Mimolette (Boule de Lille),
Pas de l'Escalette
,
Petit Pardou
,
President Madrigal
,
P'tit Basque
,
Salers
,
Tomme de Romans
,
Tourmalet
,
Trappiste de Bricquebec
,
Trou du Cru
,
Zelu Koloria
Abbaye de Citeaux
,
Abbaye du Mont des Cats
,
Aisy Cendre
,
Ami du Chambertin
,
Aromes au Gene de Marc
,
Baskeriu
,
Beaumont
,
Beemster 2% Milk
,
Bleu d'Auvergne
,
Bleu Des Causses
,
... show all ... ,
Brie de Melun, Brin, Brin d'Amour, Calenzana (Calinzanincu), Camembert Calvados, Chabichou du Poitou, Charolais, Chaumes, Chèvre, Dauphin, Delice des Fiouves, Fleur du Maquis, Fromage de Montagne de Savoie, La Vache Qui Rit cheese, L'Affine Au Chablis, Langres, Le Brebiou, Le Brin, Lou Palou, Mamirolle, Monastery Cheeses, Mont D'or, Morbier, Murol, Neufchatel, Pave d'Auge, Port-Salut, Reblochon AOC, Rollot,
Roquefort
,
Saint Albray
,
Saint-Nectaire
,
Saint-Paulin
,
Sainte-Maure de Touraine AOC
,
Sourire Lozerien
,
Tomme de Chevre
,
Tomme de Savoie
,
Tommes
,
Trappiste d'Igny
Affidelice au Chablis
,
Alpicrème
,
Amalthée
,
Anneau du Vic-Bilh
,
Baby Brie
,
Baguette Laonnaise
,
Banon
,
Barberey
,
Belletoile
,
Bleu de Laqueuille
,
... show all ... ,
Bougon, Boule Du Roves, Bourdin Goat Log, Boursault, Boursin, Bouyssou, Brebirousse d'Argental, Brebis du Puyfaucon, Bresse Bleu, Brie, Brie au poivre (Brie with pepper), Brie de Meaux, Brillat-Savarin, Briquette de Brebis, Briquette du Forez, Brousse du Rove, Buche de Chevre, Buchette d'Anjou, Bûchette à la Sarriette, Butte, Cabecou, Cachaille, Camembert, Camembert Calvados, Camembert de Normandie, Cancoillotte (Cancoyotte), Caprice des Dieux, Carre de l'Est, Casu marzu, Cathelain, Cendre d'Olivet, Chabis de Gatine, Chaource, Chaumes, Chavroux, Chèvre, Chevrotin des Aravis, Civray, Coeur de Camembert au Calvados, Coeur de Chevre, Coulommiers, Couronne Lochoise, Crayeux de Roncq, Cure Nantais, Delice de Bourgogne, Delice des Fiouves, Dreux a la Feuille, Epoisses de Bourgogne, Explorateur, Figue, Filetta, Fin-de-Siecle, Fondant de Brebis, Fontainebleau, Fougerus, Fourme de Haute Loire, Frinault, Fromage Corse, Galette du Paludier, Galette Lyonnaise, Gastanberra, Gourmandise, Grand Vatel, Grataron d' Areches, Gratte-Paille, Greuilh, Gris de Lille, Guerbigny, Kiri, La Taupiniere, L'Affine Au Chablis, Laruns, L'Aveyronnais, Le Chevrot, Le Conquerant Camembert, Le Conquerant Demi Pont L'eveque , Le Duc Vacherin, Le Fium Orbo, Le Lacandou, Le Marquis Chevre, L'Ecir de l'Aubrac, Lingot des Causses, Lingot Saint Bousquet d'Orb, Livarot, Lou Pevre, Macconais, Maroilles, Monastery Cheeses, Mothais a la Feuille, Munster, Nantais, Olivet au Foin, Olivet Bleu, Olivet Cendre, Palet de Babligny, Pate de Fromage, Patefine Fort, Pave de Chirac, Pelardon des Cevennes, Pelardon des Corbieres, Pérail de Brebis, Petit Blaja, Picodon de Chevre, Pigouille, Pithtiviers au Foin, Poivre d'Ane, Pont l'Eveque, Pouligny-Saint-Pierre, Pourly, President Brie, President Light Brie, P'tit Berrichon, Pyramide, Quatre-Vents, Quercy Petit, Regal de la Dombes, Rigotte, Rocamadour, Rochebaron, Romans Part Dieu, Roule, Rouleau De Beaulieu, Rustinu, Saint Agur, Saint-André, Saint Félicien, Saint-Marcellin, Selles sur Cher,
Soumaintrain
,
Abbaye de Tamié
,
Tomme des Chouans
,
Touree de L'Aubier
,
Trappe de la Coudre
,
Vacherin
,
Valencay
,
Venaco
,
Vieux Corse
,
Vignotte