Paesanella Cherry Bocconcini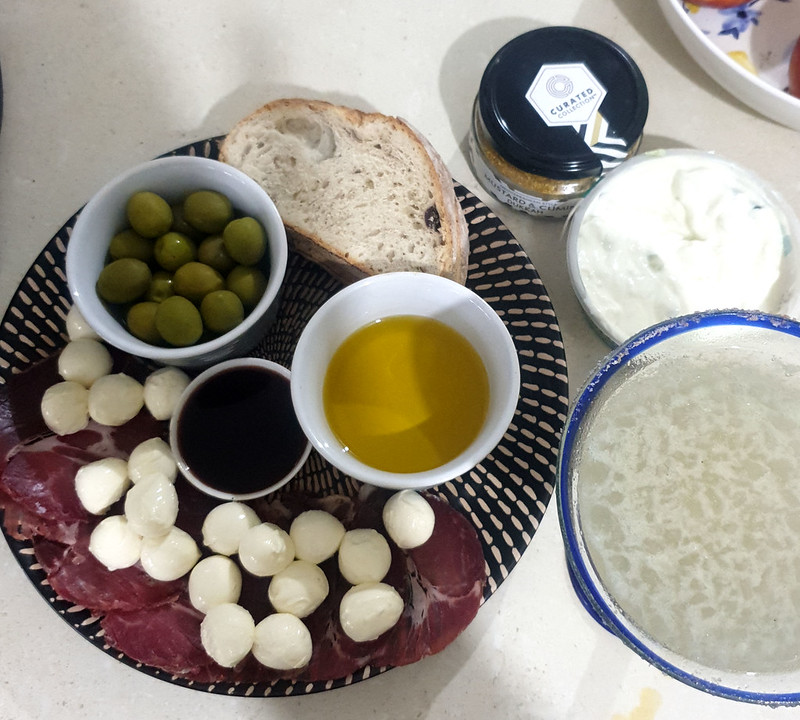 Paesanella Cherry Bocconcini is a smaller version of Paesanella Bocconcini. The term "cherry" simply relates to the size of a cheese ball. Paesanella Cherry Bocconcini is a semi-soft white cheese produced by Paesanella Cheese Manufacturers in New South Wales, Australia. Bocconcini, meaning "little bites" in Italian, are egg-sized Mozzarella cheeses.
Paesanella Bocconcini is made from pasteurised cow's milk. This elastically textured cheese is suspended in water, which maintains its freshness. Milky sweet in taste with a hint of salt cheese goes well with anti-pasta dishes, salads and pizzas.
Other Australian cheeses:
Heidi Aged cheese
,
Heidi cheese
,
Kervella Affine
,
Maffra Aged Rinded Cheddar
,
Maffra Cheshire
,
Maffra Mature Cheddar
,
Maffra Red Leicester
,
Maffra Wensleydale
,
Martha's Heat
,
Mersey Valley Original Vintage
,
Mountain Goat
,
Pyengana Cheddar
,
Tala
,
Washed Rind Cheese (Australian)
,
Yarra Valley Vintage Savourine
Black Pearl
,
Figaro
,
Grabetto
,
Harvest
,
Maffra Dargo Walnut
,
Maffra Peppercorn Cheddar
,
Maffra Sage Derby
,
Mandolin
,
Milawa Goats Tomme
,
Paesanella Fresco
,
Pompeii
,
Pyengana Cheddar
,
Tasmania Highland Chevre Log
,
Washed Rind Cheese (Australian)
,
Yarra Valley Black Savourine
,
Yarra Valley Bulls Eyes
,
Yarra Valley White Savourine
Bega Processed Cheddar
,
Binnorie Marinated Fetta
,
Duet
,
Edith
,
Gippsland Blue
,
Kervella Affine
,
King Island Cape Wickham Brie
,
Le Conquerant Demi Pont L'eveque
,
McLaren
,
Meredith Blue
,
... show all ... ,
Milawa Blue, Milawa Brie, Milawa White, Oasis, Paesanella Dry Ricotta, Timboon Brie,
Vigneron
,
Washed Rind Cheese (Australian)
,
Woodside Cabecou
,
Woodside Capricorn
,
Woodside Charleston
,
Yarra Valley Cardi
,
Yarra Valley Juno
,
Yarra Valley Persian Feta
,
Yarra Valley Saffy
,
Yarra Valley Yering
Allium Piper
,
Barambah Organics Marinated Feta
,
Cottage Cheese (Australian)
,
Goat Curd
,
Kris Lloyd - Artisan Blend
,
Manon
,
Mascarpone (Australian)
,
Meredith Ashed Pyramids
,
Meredith Chevre Ash
,
Meredith Chevre Dill
,
... show all ... ,
Meredith Chevre Plain, Meredith Goat Cheese in Extra Virgin Olive Oil, Monet,
Paesanella Buffalo Ricotta
,
Paesanella Burrata
,
Paesanella Fresh Ricotta
,
Quark
,
Ricotta (Australian)
,
Tapas
,
Woodside Chevre
,
Yarra Valley Ashed Pyramid
,
Yarra Valley Fresh Pyramid
,
Yarra Valley Gentle Goat