Le Cendrillon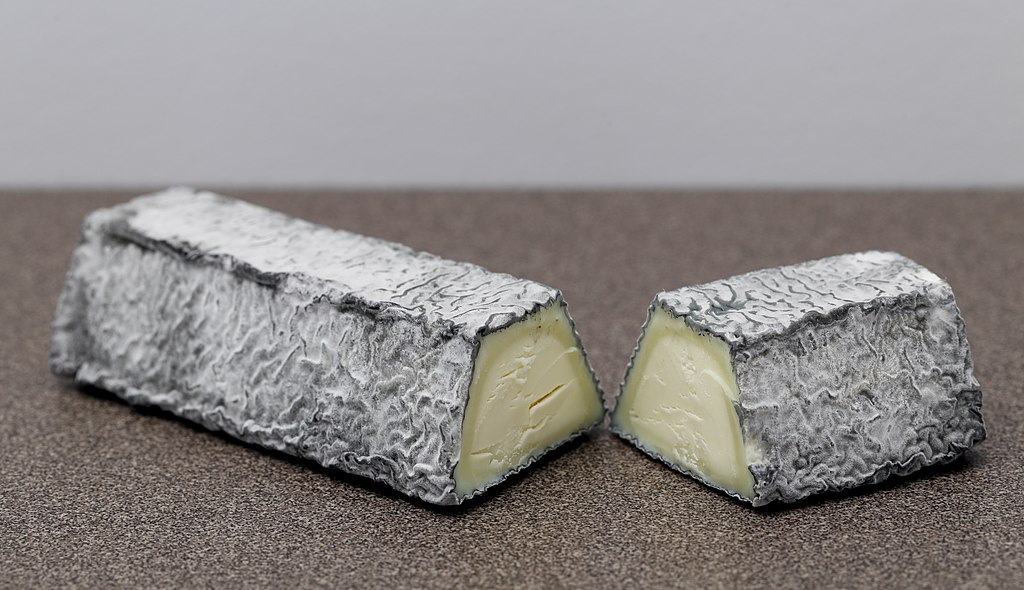 Le Cendrillon ("Cendrillon" means "Cinderella" in French) is a vegetable ash-covered, soft, surface-ripened goat cheese that was crowned the 'Best Cheese in the World' at the 2009 World Cheese Awards. It was the first cheese from Quebec to ever receive such a prestigious honour. Also the cheese has won several awards: Bronz at International Cheese Awards 2017 and International Cheese Awards 2019, and World Cheese Awards 2018.

This triangular, log-shaped cheese has got a smooth ivory body enveloped by a marble-textured rind. The flavour is pretty strong, acidic and slightly sour. When young, the overall taste is mild, but as it ripens, the flavour becomes more pronounced, with the rind acquiring a bit of spice.

Le Cendrillon pairs well with a Loire wine (white) or Amber Ale.
Other Canadian cheeses:
ADL Brick Cheese
,
Alpine Gold
,
Amsterdammer (British Columbia)
,
Baluchon
,
Beemster 2% Milk
,
Bleu Bénédictin
,
Bleu L'Ermite
,
Blue Benedictine
,
Boivin Marbled Cheddar
,
Cape Vessey
,
... show all ... ,
Castle Blue, Comtomme, Doré-Mi, Dragons Breath Blue, Fou du roy, Gracie Grey, La Pyramide,
Lady Jane
,
Little Qualicum Raclette
,
Mamirolle
,
Monastery Cheeses
,
Noyan
,
Pied-de-vent
,
Richelieu
,
Saanen Silk
,
Shredded Bliss
,
Waupoos Lizzie
Belle Creme
,
Bleubry
,
Blissful Toppings
,
Brie Coco
,
Brie d'Alexis
,
Brie de Portneuf
,
Brie de Portneuf Double Cream
,
Brise du Matin
,
Camembert de Portneuf
,
Camembert des Camarades
,
... show all ... ,
Capri Blu, Caprice , Capriny, Caronzola , Cendré des Prés, Château de Versailles, Comox Brie, Comox Camembert , Counting Sheep…and Goats..., Cream Cheesy Bliss, Garlic and Fine Herbs Cashew Cheese, Grey Owl, Hand Rolled Chevre Logs, Island Bries , La Bonaparte, La Rumeur, La Sauvagine, La Sauvagine Réserve, Lacey Grey, Le Double Joie, Le Reflet de Portneuf , Le St-Raymond , L'Empereur, Les Calendos ,
L'Étoile de St-Raymond
,
Météorite
,
Monastery Cheeses
,
Okanagan Double Cream Camembert
,
Operetta
,
Paillot de Chèvre
,
Pizy
,
Saint-Honoré
,
Slices Of Bliss
,
Sun Dried Tomato and Basil Cashew Cheese