Bierkase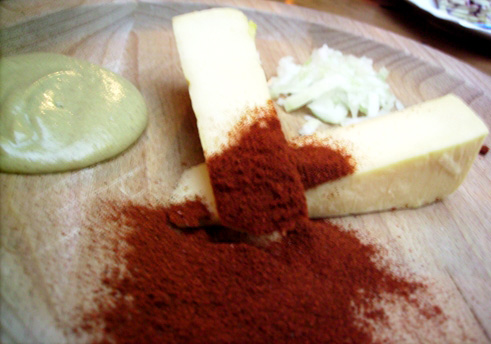 Made from pasteurized cow's milk

Country of origin: Germany

Family: Cheddar

Type: semi-soft, smear-ripened

Fat content: 40%

Texture: smooth

Rind: washed

Colour: pale yellow

Flavour: full-flavored, salty, tangy

Aroma: strong

Vegetarian: no

Producers: Wisconsin Cheese

Synonyms: Weisslacker, beer kaese, beer cheese, Whitewash, bierkäse
Bierkase cheese is also known as:
Weisslacker meaning 'Whitewash' in German
bierkaese (bierkäse, bier käse, bier kaese)
Beer cheese
Bierkase cheese was originated in Germany. Now it is produced in the United States as well.
Cow's milk is used while preparing the cheese. The cheese has powerful smell, mild taste and tastes best when ripen for seven months in highly humid conditions. It is a common ingredient in various bread, soups, and dips.
Bierkase cheese is eaten along with beer and sometimes directly dipping it in the drinks. It can be served with wine or on small slices of rye or pumpernickel bread and some sliced onions.