Tetilla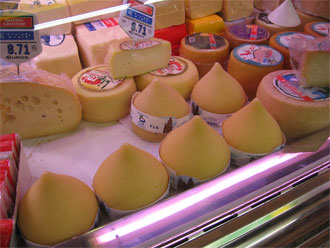 Made from pasteurized or unpasteurized cow's milk

Country of origin: Spain

Region: Galicia

Type: soft, artisan

Fat content: 25%

Texture: creamy, open, smooth and spreadable

Rind: natural

Colour: pale yellow

Flavour: bitter, buttery, mild, tangy

Vegetarian: no

Synonyms: Queso de Perilla, Queso de Teta, Queso de Teta de Vaca, Queso Gallego de Teta

Alternative spellings: Queso Tetilla
Tetilla is a typical Galician cheese made from the herd of Friesians, Alpine Browns and Rubia Gallega cows. Since 1992, it has been one of the four kinds of cheese that received DOP recognition. The name Tetilla is Galician for 'small breast', which describes the shape of the cheese – a pear-shaped cone topped by a nipple.
This cheese has a pale yellow, thin, natural rind, or sometimes no rind can be seen at all. Its texture is soft, thick and smooth with scatterings of air pockets. Yellowish ivory in colour, Tetilla has a creamy mouthfeel with buttery, slightly bitter and tangy flavours surrounding the palate. The maturing, which takes place between 10 and 30 days, happens in the hot and humid climate of Galicia.
Try Tetilla with a dry, full-bodied wine, sherry, young whites, manzanilla and especially the Galician whites - Albariño or Ribeiro. The Spanish love to consume cheese with quince paste, fruits, crackers, baked dishes and bread.