Tete de Moine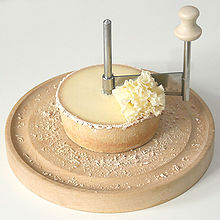 Made from unpasteurized cow's milk

Country of origin: Switzerland

Region: Bernese Jura, Canton of Bern

Family: Swiss Cheese

Type: semi-hard

Fat content: 50%

Aroma: strong

Vegetarian: no
Tete de Moine AOP is a semi-hard, unpasteurized cow's milk cheese from Switzerland. It is classified as Alpine cheese or a Swiss-type chees, and was initially produced more than eight centuries ago by the monks. It is believed that the monks staying at Moutier, the mountainous zone of the Bernese Jura in Canton of Bern, manufactured this cheese. And hence the cheese takes the name 'Tete de Moine', meaning 'Monk's Head'.
It is aged for a minimum of 2.5 months on a small spruce plank and is typically paired with a dry, white wine. The reddish-brown crust of the cheese is grainy, moist and lubricated, and the yellow-to-ivory-coloured paste is homogeneous, sticky and supple. To enjoy the best taste, a tool called 'Girolle' was invented in 1982. Using this tool, the cheese is scraped into fine rosettes/curls.
Tete de Moine proves to be the best companion for Crisp White Wines such as Pinot Grigio.
Other cheeses from Switzerland: