Milleens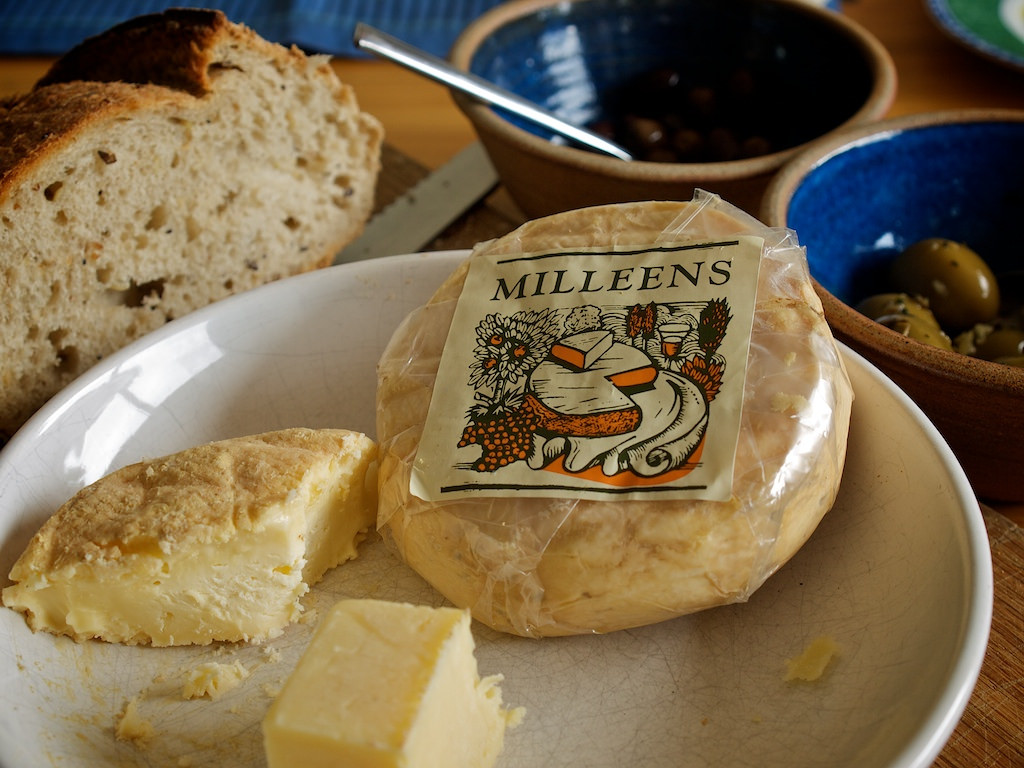 Made from pasteurized cow's milk

Country of origin: Ireland

Region: Beara Peninsula, Co. Cork

Type: semi-soft, artisan

Fat content: 45-50%

Rind: washed

Colour: pale yellow

Flavour: floral, herbaceous, mushroomy, sweet

Aroma: aromatic, earthy, pungent

Vegetarian: no

Producers: Milleens Cheese Ltd.
Milleens is one of Ireland's oldest farmhouse cheeses. It was first manufactured in 1976 by Veronica and Norman Steele on their farm at Milleens, on the Beara Peninsula, Co. Cork in 1976. Today, Norman and Veronica's son, Quinlan looks after the day to day operations at the cheese farm.

The semi-soft Milleens is a washed-rind cheese made from the pasteurised whole milk of Friesian cows. It is available in 1.2kg rounds, Milleens 'O' 1kg, Milleens Dote 200g. The 'O' and 'Dotes' are different in both flavour and texture. The 'O' is more evocative of the original Milleens, with slight chalkiness at the centre of the pate and a particularly earthy aroma emitting from pungent, pink orangey rind. In contrast, the 'Dotes' are softer and more fragrant with an active orange rind. Both present a firm, creamy texture and herbal, mushroomy and floral taste intensified by the farmyard aromas.

A traditional washed-rind cheese, it pairs well with and off-dry Gewurztraminer and still cider. The cheese should be kept refrigerated and allowed to come to normal temperature before consuming. It continues to ripen and soften 3 months after being made.
Other cheeses from Ireland:
Ardsallagh Hard Goat's Cheese
,
Ardsallagh Smoked Cheese
,
Cahill's Irish Porter Cheddar
,
Cahill's Whiskey Cheese
,
Carlow
,
Cheddar with Irish Porter
,
Cheddar with Red Wine
,
Knockdrinna Gold
,
Knockdrinna Meadow
,
Lavistown
,
Mossfield Organic
,
Oak Smoked Cheddar
,
Orkney Medium Coloured Cheddar
,
Orla
,
Walnut Cheddar