Ardrahan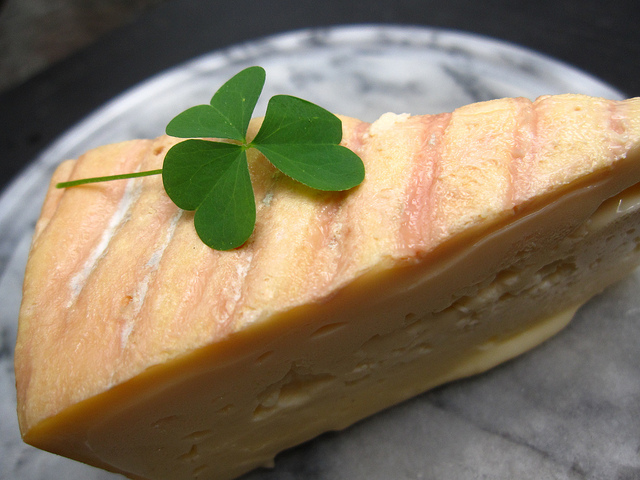 Ardrahan is a semi-soft cheese made from pasteurised cow's milk by Eugene and Mary Burns in Duhallow - a County Cork town located south of Ireland. All the milk used in the cheese production comes from pedigree Friesians that graze on their beautiful farm. The brine-washed rind glows with golden and earthy moulds. Its paste is deep yellow in colour with a slightly chalky texture and earthy aroma. The cheese emits a flash of complex flavours emphasized by acidic, buttery and savoury attributes. Tasting of Ardrahan is reminiscent of a young Gruyere. The cheese matures in four to eight weeks.
A smoked variety of Ardrahan has a brownish, smoked rind with semi-soft consistency and chalky texture. Its aroma resembles smoke, peanut butter with roasted coffee notes.
Ardrahan is a handmade cheese prepared using only traditional methods, whole milk and vegetarian rennet. This yellow colour cheese contains about 25% fat and is available in a large and small wheel of 1.5kg and 300g, respectively.
The cheese has won many awards including the Irish Food Writers Guild annual Good Food award, British Cheese Awards and the World Cheese Awards. It pairs well with a Pinot Noir, Chianti and Sangiovese.
Other cheeses from Ireland:
Ardsallagh Hard Goat's Cheese
,
Ardsallagh Smoked Cheese
,
Cahill's Irish Porter Cheddar
,
Cahill's Whiskey Cheese
,
Carlow
,
Cheddar with Irish Porter
,
Cheddar with Red Wine
,
Knockdrinna Gold
,
Knockdrinna Meadow
,
Lavistown
,
Mossfield Organic
,
Oak Smoked Cheddar
,
Orkney Medium Coloured Cheddar
,
Orla
,
Walnut Cheddar