Leerdammer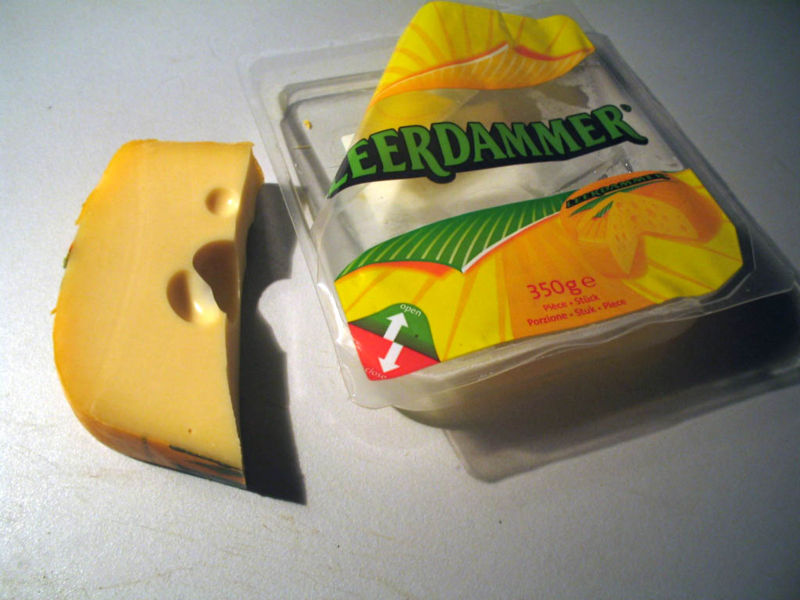 Leerdammer is a semi-hard Dutch cheese made from pasteurised cow's milk. First developed by Cees Boterkooper in 1914 on a small farm in Schoonrewoerd, today, the cheese is produced exclusively by le Groupe Bel. Schoonrewoerd is located in the municipality of Leerdam from where the cheese takes its name.
Leerdammer has a slightly elastic, creamy white pate with a somewhat sweet, nutty flavour that becomes definite with age. This open textured cheese with numerous holes is a delicious cross between Emmental and Dutch Gouda.

The cheese is available in a variety of shapes and sizes. Smooth and creamy slices come in handy while preparing sandwiches whereas blocks are ideal for grating and cooking. Last but not the least is the traditional giant wheel that can be cut into wedges as little as much you like.


Other cheeses from Netherlands:
Aged Gouda
,
Beemster Aged
,
Beemster Extra Aged (XO)
,
Black Betty
,
Boeren-Leidse met sleutels
,
Doolin
,
Dutch Mimolette (Commissiekaas)
,
Kanterkaas
,
Lamb Chopper
,
L'Amuse Brabander Goat Gouda
,
... show all ... ,
L'Amuse Signature Gouda, Leyden, Midnight Moon, Parrano,
Picobello
,
Prima Donna
,
Prima Donna fino
,
Prima Donna forte
,
Prima Donna leggero
,
Prima Donna maturo
,
Reypenaer V.S.O.P.
,
Reypenaer XO Reserve
,
Smoked Gouda
,
Wilde Weide