Vasterbottenost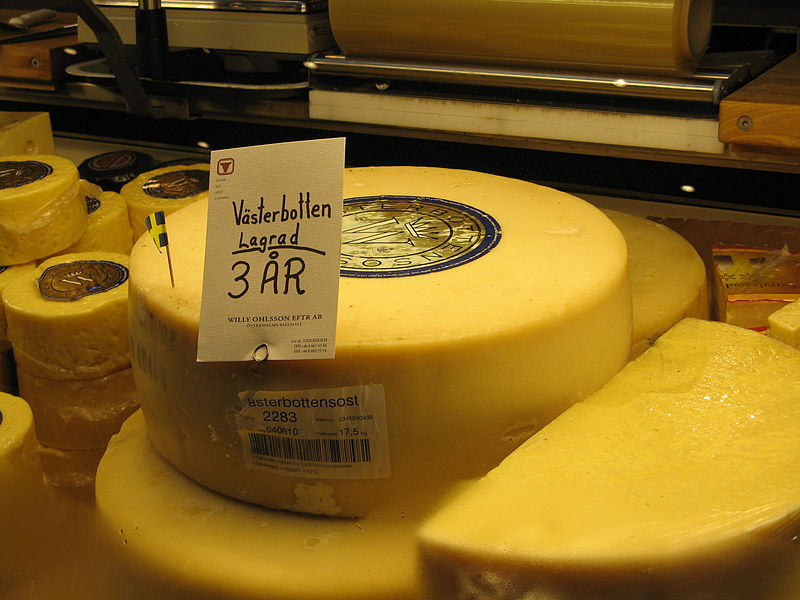 Made from pasteurized cow's milk

Country of origin: Sweden

Region: Burträsk

Family: Parmesan

Type: hard, artisan

Fat content: 31%

Rind: waxed

Colour: pale yellow

Flavour: full-flavored, salty, sweet

Aroma: aromatic, strong

Vegetarian: no

Producers: Norrmejerier

Alternative spellings: Västerbotten
In 1872, Eleonora Lindstrom of Sweden accidentally discovered the recipe of Västerbottensost when the milk was left to curdle longer than needed. It is produced only by the Norrmejerier Swedish dairy company at their Burträsk farm. The Swedes salute it as the "Emperor of cheeses".
Västerbottensost is a hard, granular cheese with a distinct character and powerful aromatic aroma. The taste is similar to Parmesan cheese, salty but with sweeter notes. Also, the texture is crumblier than an Italian Parmigianino Reggiano. It is a slow-maturing cheese with a minimum of a one-year ripening period. Light yellow in colour, Västerbottensost is a full-fat cheese containing 31% fat. Since the production is limited, it is twice as expensive as other aged cheeses. It is usually produced in the shape of a wheel, with smooth, yellow waxed rind.
Swedish enjoy this cheese at August crayfish parties, and it is a must ingredient in the highly popular Västerbotten cheese pie.
Other cheeses from Sweden: