Greve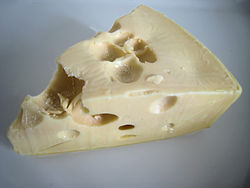 For the first time produced in Örnsköldsvik in 1964, Greve is a semi-hard Swedish cheese made from cow's milk. It is similar to Emmental having mild and nutty taste.
This cream-coloured cheese has a smooth and creamy texture with large holes throughout. It contains 30-40% fat and takes 10 months to attain full ripeness.
With beer and white wine, Greve is served as a snacking cheese and it is sometimes also known as Greveost.
Other cheeses from Sweden: