Pepper Jack Broccoli Pasta Bake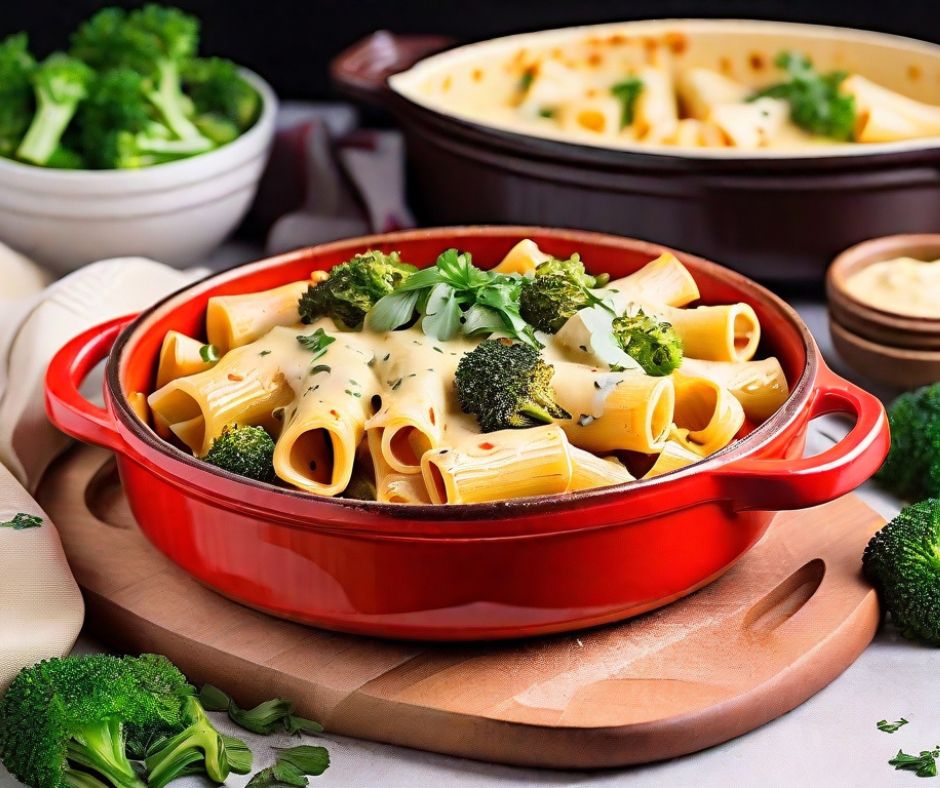 This delectable cheese bake is perfect for warming up autumn evenings. 
SERVES: 4

INGREDIENTS
300g pasta of your choice (such as penne or rigatoni)
2 cups fresh broccoli florets, steamed until tender
1 1/2 cups shredded Pepper Jack cheese
2 tablespoons butter
2 tablespoons all-purpose flour
2 cups milk
1/2 teaspoon garlic powder
Salt and black pepper, to taste
1/2 cup breadcrumbs
2 tablespoons grated Parmesan cheese
Fresh parsley, chopped (for garnish)
 
HOW TO PREPARE
1. Preheat Oven: Preheat your oven to 350°F (175°C). Grease a baking dish and set aside.

2. Cook Pasta and Broccoli: Cook the pasta in a large pot of salted boiling water until al dente. Drain and set aside. Steam the broccoli until tender and chop it into smaller pieces.

3. Make Cheese Sauce: In a saucepan, melt the butter over medium heat. Stir in the flour and cook for a minute or until it turns golden brown. Gradually whisk in the milk, stirring constantly until the sauce thickens. Add garlic powder, salt, and black pepper. Reduce heat to low, then add 1 cup of Pepper Jack cheese. Stir until the cheese is melted and the sauce is smooth.

4. Combine Pasta, Broccoli, and Sauce: In a large mixing bowl, combine the cooked pasta, steamed broccoli, and the Pepper Jack cheese sauce. Mix until the pasta and broccoli are evenly coated.

5. Prepare Topping: In a small bowl, mix the remaining 1/2 cup of Pepper Jack cheese with breadcrumbs and grated Parmesan cheese.

6. Assemble and Bake: Transfer the pasta and broccoli mixture into the prepared baking dish. Sprinkle the cheese and breadcrumb mixture evenly over the top. 

7. Bake: Bake in the preheated oven for 20-25 minutes or until the top is golden and the cheese is bubbly.

8. Serve: Remove from the oven and let it cool slightly. Garnish with fresh chopped parsley and serve hot.

PAIRING SUGGESTIONS
A Sauvignon Blanc or a sparkling Rosé would pair well with this dish, but if you prefer a red wine you could go for a Pinot Noir. 

Enjoy your delicious Pepper Jack Broccoli Pasta Bake with your family or friends!