Beetroot, Cobnut and Goat's Cheese Salad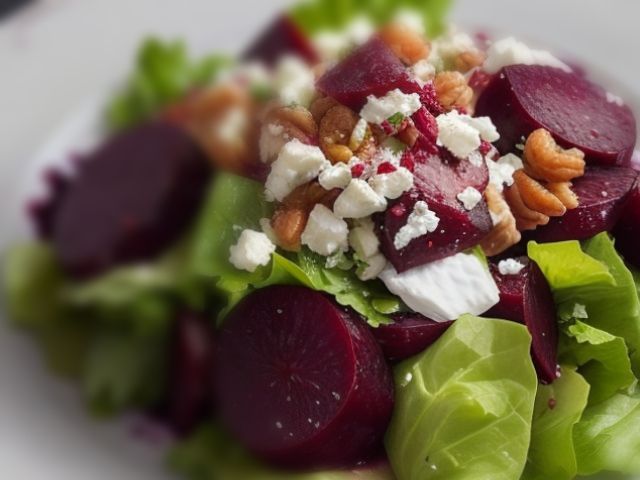 Bursting with fresh and vibrant veggies, creamy cheese and zesty dressings, this culinary creation will keep you cool and satisfied as you savour the flavours of the season.
Beat the heat with this delightful salad recipe, brought to you by LA FROMAGERIE.
Serves: 2 persons
Ingredients
300g beetroot 
Few thyme strings 
1n garlic cloves 
4n figs 
200g mix salad 
50g fresh cobnut 
Dill, chives, chervil 
50ml verjuice 
6tbls olive oil 
1/2 Fleur de Chèvre goat cheese
How to prepare
Start to cook the beetroot. 
Switch the oven to 190c.
Wash and place the beetroot on an aluminium foil, place the thyme and the garlic cloves crushed. Season with salt and pepper and drizzle with 2tbls olive oil. Cover with another aluminium foil and close rolling the two sheets together. Bake for 50 minutes.
In the meantime, in a small pan reduce the verjuice on a lower heat until reaches half, then place in a bowl and add salt pepper and the remaining olive oil and mix well to make the dressing.
When the beetroots are ready leave them to cool down a bit, then peel them and slice them in wedges.
In a bowl, add the beetroot and the salad, dress with a bit of the dressing and arrange in two plates. Slice the figs in four and dived on the plate. 
Scatter around the cobnut and some herbs, crumble the goat cheese. Drizzle with the remaining dressing and serve.
How to pair it
That's it for the recipe! 
And now, how are you going to pair it with? Well, we have good news: wine is not the only good pairing note to a cheesy-gooey recipe. And Joshua Page, one of the senior cheesemongers at LA FROMAGERIE, suggests an innovative pairing with ... you'll have to follow this link to know all about it.
Enjoy it!